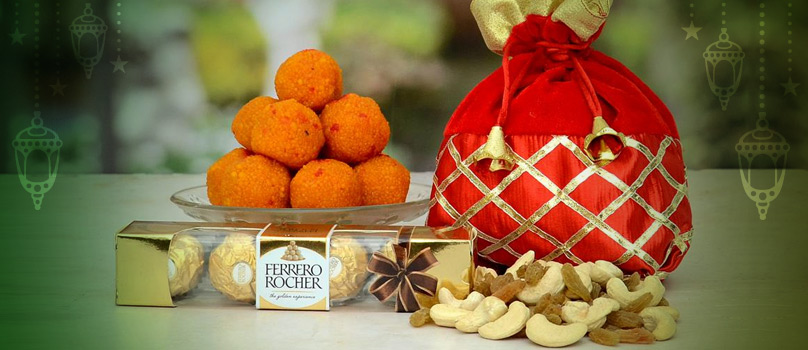 Eid-ul-Fitr is one of the most eventful festivals, which is celebrated by the people of Muslim community all over the world. This festival is also celebrated with great gusto and zeal by the Indian Muslims and is participated by people of other various communities. The preparations for the festival begin much before the actual day of celebration. Eid is a three day festival that everyone looks forward to every year. On the day of festival, everyone engages themselves in merry-making, grand feasting and exchanging gifts. With online gifting gaining prominence with every passing day, on this colorful festival you can go for the various e-gifting sites for sending gifts. These online gifting portals are in fact the best option for the Indians living outside the country to send gifts to India.
If you stay outside the country, you can go for the GiftstoIndia24x7.com, which is a widely recognised gifting portal for sending gifts to India. This online gifting portal has given new dimension to sending gift to India from US and also from other various countries with the impeccable service and availability of plethora of gifts. In addition, our website has a wide delivery network, meaning that your gift will be delivered no matter which part of the country you want it to be delivered. Along with this facility, GiftstoIndia24x7.com boasts of its proficient customer care support, which is there to help you 24x7 regarding our services and products.
Since our website is entirely dedicated to different occasions and festivals, we have dedicated different sections for various festivals and occasions. For the festival of Eid, a separate section is assigned where you will find gifts of various types from where you can send to your loved ones back in India. Our collection of Eid gifts to India range from flowers to sweets, watches, jewellery, perfumes, sweets and more.
If you are looking to send chocolates to India on Eid, you can browse through the category of chocolates in the section of Eid gifts. Our collection of chocolates are further categorised into Chocolates & Cookies, Chocolate Hampers, Chocolate Thali and Handmade Chocolates. In all these different categories, you will find mouthwatering chocolates offered by various renowned brands. If you opt for Chocolates & Cookies, you will get to choose from products that are coming with chocolates of different brands and also of various types. For example, if you choose 'Mouthwatering Treats', you will be able to send Ferrero Rocher and also different types of Lindt chocolates. You can also opt for Chocolate Hampers, where with the chocolates, you will be able to send other tasty food items like wafers, sweets and even soft toys.
Similar to other festivals, sweets hold special significance on the festival of Eid. With the help of our site, you can send sweets to India on Eid to your family and friends back in India. For the festival of Eid, we are displaying array of lip-smacking sweets, which you dear ones will love to savor. There are four different categories, Indian Sweets, Sweet Hamper, Sweets Thali and Tinned Sweets, which you can browse thoroughly for choosing the one you want to send. All the four categories are filled with sweets dipped in syrup and also dry sweets.
No matter what is the occasion or festival, flowers always make it more special. On the auspicious festival of Eid, you can send flowers coming in different arrangements to your family and friends. We offer fresh flowers like rose, carnations, gerberas, lilies, orchids and more. If the recipient to whom you will be sending the flower prefers a particular types of flower, like rose, then you can send the same with the help of our site. We, at GiftstoIndia24x7.com, will certainly help you to make an Eid celebration that you are want for a long time.