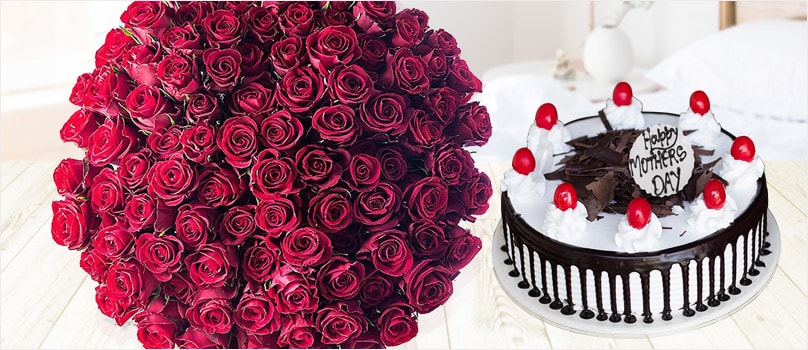 Mother's Day is a special occasion to celebrate the spirit of motherhood. It is your mother who has carried you for nine months in her womb to show you the light of this world. Along with your father she is the one who has managed the family and supported you throughout your life. She is also the one to mould you to a man, you are today. Her love for you is unconditional and unparallel. Now the time has come for you do something extra special for her on Mother's Day. Make some plans to make the occasion special so that the day becomes unforgettable to her for a long time. o, before you send gifts to your dear mom, you must know when is Mother's Day. Now-a-days various online portal have come up enhancing the trend of online gifting. GiftstoIndia24x7.com is one of the most preferable online gifting portal to send gifts India.
GiftstoIndia24x7.com is enabling the global Indians to send gifts to India on any occasions and festivals. Availing their services on this Mother's Day you can send exclusive gifts to your mother on this ocassion. The site has segregated its wide range of gift articles under different categories to make your searching process easier. You can select gift articles according to her preference and if you are not sure of her choice, you can gift her a personalized gift article box. Along with this, you can also add a beautiful handmade Mother's Day greetings card. This will give your gift an unique personal touch.
Chocolates are all time favorite of women. If you have planned to give her some delicious chocolates, you are moving towards the right direction. You can send chocolates from our site that includes internationally branded chocolates such as Ferrero Rocher and Cadbury. You can also opt for assorted chocolates containing mint, orange, dark or coffee and almond logs and chocolate bar made from our finest dark couverture. These delicious chocolates come in a beautiful hand crafted box, tied with colorful ribbons. These beautiful chocolate boxes are sure to win your mom's heart on this special occasion. Send chocolates to your mom this Mother's day through GiftstoIndia24x7.com and make the occasion even more sweeter.
Flowers are the best gift article which can be presented on any occasion or festival. Be it the message of love from a boy to a girl or the confession of everlasting love by a husband to a wife or the occasion of someone's birthday , these flowers have always been used by assigning different symbolic meanings to them. You can send flowers to India on mother's day to your mom and the make her day bright by sending your warmest and heartfelt messages. GiftstoIndia24x7.com has arranged a wide assortment of flowers to select from. From exotic gerberas to colorful orchids, roses, lilies all you can avail from here. A bunch of fresh flowers will surely add beauty to your gift. Flowers as gift to India will be delivered on time right at your door.
Cakes also can be an excellent idea to gift your mom on Mother's day. GiftstoIndia24x7.com introduces variety of mouth-watering cakes from renowned local and Five star bakery. You can express your precious love to your mom by sending her delicious cakes available in the store. You can avail cakes of different flavors such as chocolate, vanilla, pineapple, strawberry and many more. These cakes are decorated with colorful icing and chocolate pieces on the top. Send cakes to India on mothers day through GiftstoIndia24x7.com and make the occasion grand and colorful.
Celebrate this Mother's Day with GiftstoIndia24x7.com to make the occasion memorable. Even if you are miles away from your beloved mom your gifts will surely make her feel your presence.