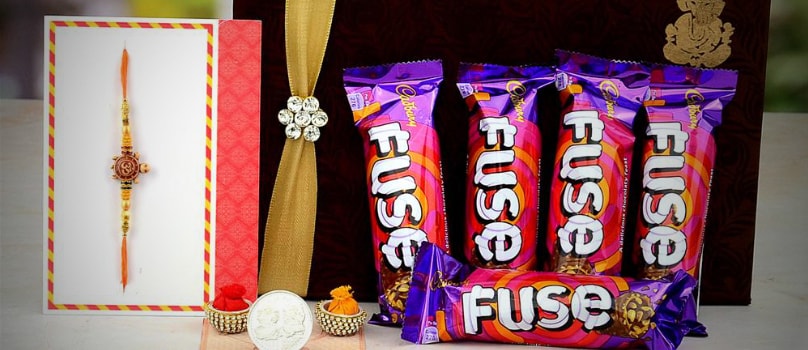 "Nine out of ten people like chocolate. The tenth person always lies." - John Q. Tullius
That's how irresistible the universal appeal of chocolate is! People irrespective of age fall in love with chocolates at a very tender age and that love affair continues for the rest of their lives. Chocolate on Rakhi is so popular not just for its unforgettable taste but the magic that is associated with it. In fact, the sweetness of chocolates multiplies when you share them with others. Chocolate is arguably the symbol of love and among an overwhelming majority of people, it is considered the numero uno gift item for any season, for any occasion. Sending chocolates is possibly the best way to express your love for anyone from a child to an adult.
Rakhi is one such occasion that offers the opportunity to celebrate love with manifold gifts and assortments. It is an auspicious occasion when a sister and a brother celebrate their unconditional love for each other. A sister may not always be physically present to tie the sacred thread on her brother's wrist but she can send Rakhi to India with the most wonderful rakhi gifts. But no gift is complete without chocolates, no matter in whatever shape or form. A beautifully designed chocolate gift basket containing chocolates of many varieties such as dark chocolates, white chocolates, chocolates with nuts, fruits, and almonds, and those with different flavors such as raspberry or caramel makes it an exceptionable rakhi hamper. This Raksha Bandhan you may not be with your beloved brother or sister but through our website, you can send rakhi to India along with the perfect chocolate hamper of your choice. The sweet taste of chocolate will not only offer a mouth-watering sensation to your dear brother or sister but also bring back the golden memories of yesteryears.
The most alluring chocolate hampers to look for:
This year you have the most delectable chocolate hampers on offer to send on Raksha Bandhan in India. The options galore may vary from a heart-shaped hamper embellished with copious numbers of colorful heart-shaped chocolates with crispy kajus to a handmade chocolate thali with the most sumptuous of chocolate collections from the house of celebrated chocolate manufacturers such as Nestle, Cadburys, and the world-famous Swiss chocolate makers Kraft Foods. If you want to gift something different and unconventional your pick should be the heavenly duo of Ferraro Rocher chocolates and a box of Danish butter cookies. It will offer an exquisite chocolaty experience to your loved ones in India. There is also much for the children, a wholesome chocolate hampers decorated in a cane basket containing a variety of chocolates - a pack of Cadbury gems, Mickey Donald wonders Tiffin box, two five stars, two kit kat, and two safari bars. You can also opt for a combo pack of a Cadbury Celebrations Pack and a Can of Vochelle Fruit & Nut to present a rakhi hamper to remember for a long time.
Like any other festival, gifts play an integral part in Raksha Bandhan in India, and rakhi gifts can not be perfect without the presence of chocolates. All over the world chocolates are considered to be the objective correlative of passion, affection, and sensuous delight. On an occasion like rakhi sending, chocolates can be a very effective way of conveying the unending love and cordiality that exists between a brother and a sister. It not only indulges one in sweet ecstasy but also works as a catalyst to retain the mutual longing and attachment that exists in any human relationship.