The festival of Raksha Bandhan is celebrated by the siblings on the Hindu month of Shravana. On this auspicious day, sister conveys love to her brother by tying a sacred Rakhi thread on his wrist. Along with tying of Rakhi thread, sister offers mouth-watering sweets to her brother and puts a tilak on his forehead. This custom fortifies the relationship between a brother and a sister. While discussing about this festival, first thing that comes in our mind is when is Rakhi. Every Year rakhi is celebrated on the full moon day of Shravan which is a month as per the hindu calendar. Therefore, you can send Rakhi to India and make the festival joyous.
Gifts hold special significance on this festival. Siblings exchange gifts to convey warm wishes and good luck. Hence, if you are missing your brother on Rakhi you can send Rakhi to India online. GiftstoIndia24x7.com is a reliable online store. This online store displays gifts only for the festival of Raksha Bandhan. This e-gifting store is assisting the online shoppers over a decade in sending Rakhi gifts to India. This store comes with broad collection of Rakhi gifts such as Rakhi threads, Rakhi thalis, gift hampers, chocolates, dryfruits and so on. Therefore, select the best gift and send it with Rakhi to India.
Its efficient delivery service will definitely help you in sending Rakhi to India from foreign nations. You can send Rakhi to India from USA, UK, Canada and Australia. Even if you are in India, you can send Rakhi to India from India. These gifts will be delivered in good condition and on time. Moreover, these gifts will definitely make the festival memorable.
Some of the popular Rakhi gifts that you can opt for your siblings are as follows:-
Traditional Rakhi gifts
Wide range of traditional Rakhi gifts are available in this site. Along with Rakhi threads you can charm your siblings by sending traditional Rakhi gifts such as Rakhi thalis, Spiritual gifts and silver gifts. These thalis come with shagun items such as roli tikka & chawal dabbis, shangun nariyal with kalash and so on. You can gift something precious by selecting silver gifts such as silver holy idols, silver coins and silver pens from the silver gifts section. These gifts will definitely make your dear one feel special.
Gifts for Brother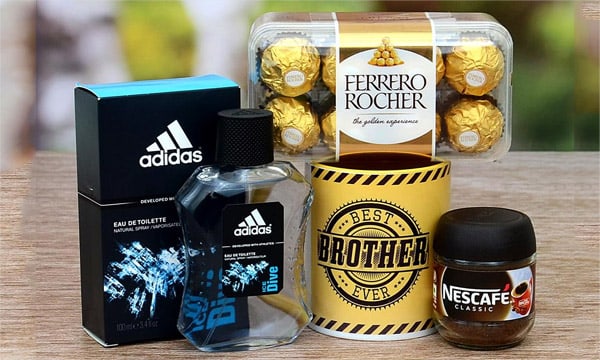 Popular gifts that are available for brother are apparels, personal care hamper, men's jewellery, men's accessories and so on. If you are not sure about your brother's preference then you can send him gift vouchers to shop and dine. Personalized gift items are the most unique gifts available in this site. You can send these gift items with your dear one's photo or with warm Rakhi greetings.
Gifts for Kid Brother and Sister
For your kid brother and sister, you can opt for gift items such as video games, educational games, outdoor games, soft toys and so on. Barbie doll will be a special gift for your kid sister. If your brother loves to play with toy cars you can delight him by sending Hot Wheels cars. Kids hamper will also be an ideal gift for your kid siblings. These hampers come with diverse types of gift items. They will be overwhelmed to receive these hampers as Rakhi gifts.
Gifts for Sister
On this special occasion, brother even delights his sister by presenting wonderful gifts. The 'Rakhi Return Gifts' section comes with wide array of gifts for sister such as cosmetics, fancy bags, apparels, jewellery, showpieces, kitchenware items and many more. These gifts will definitely amaze her on Rakhi.
Food Items
The site offers palatable food items that you can send to your siblings on Rakhi. Wide variety of food items such as Rakhi sweets, chocolates, dry fruits and namkeens are available in this site. You can send these delicious food items as Rakhi treat.
Therefore, enjoy Rakhi shopping in this online store and make the festival memorable.