One of the most important of all Indian festivals, Rakhi, celebrates the loving bond between the brothers and sisters. Apart from tying rakhi and grand feasting, gifts are also exchanged during the festival. In fact, exchanging gifts is one of the most common customs of the festival of Rakhi. Both the sisters and brothers exchange gifts. In the present day, as there has been a dramatic change in the scenario, numerous rakhi gifting portals have come into existence. These rakhi gifting portals help the NRIs to send rakhi and rakhi gifts to India when they cannot take part in this auspicious event.
Giftstoindia24x7.com is considered the global rakhi store which helps the Indians residing in various parts of the world to send rakhi to India teamed up with various rakhi gifts. If you are staying outside India and want to send rakhi to your brother back in India then you can certainly take the help of our website. In addition to a wide variety of rakhis, our astounding collection of rakhi gifts has made Giftstoindia24x7.com one of the leading as well as very popular global rakhi stores.
Though there is a separate section of rakhi gifts in our website, you can browse for gifts related to rakhi in various other sections like'Relation Wise', 'Personalized Rakhi Gifts' and 'Rakhi Return Gifts'. Each of the different section is stocked with extraordinary gifts which you can send to your sibling on Rakhri. Our exclusive section of Rakhi Gifts have been categorised under various heads which include; Chocolate Rakhi Hampers, Cosmetics, Gift Vouchers, Fancy Bags, Perfumes, Mobile Phones and many more. The category of Chocolate Hamper is one of the most popular rakhi gifts. Here, you will get to choose from variety of mouthwatering chocolates coming from different leading chocolatier brands. Each of the hampers come with a bunch of different chocolates and other gifts. For example, if you go for the hamper, 'Chocolates with Soft Toys', you will get Cadbury Almond Magic, Ferrero Rocher, Cadbudry Dairy Milk, Cadbury Nutties chocolates and a soft toy. Other than chocolate hampers, there is another category named 'Chocolates' from where you can send rakhi gifts to India. In addition to chocolates, if you want to send other delightful edibles on the festival, then browse through the sections of Dry Fruits for Rakhi, Dry Fruits Hamper, Fruit Baskets and Sweets for Rakhi.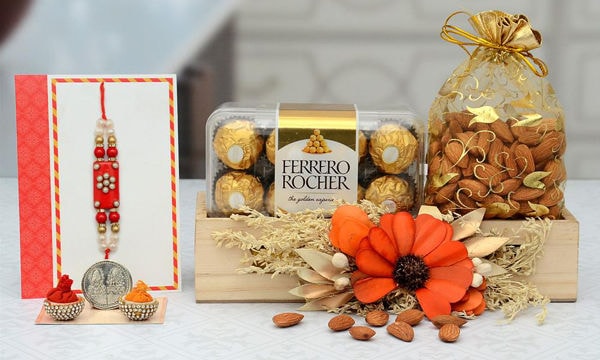 For your loving sister, you can send various beauty products from the category Cosmetics. Starting from top cosmetics brands like Lakme to Lotus Herbal, Loreal, Garneir, Pond's and many more are stocked in this section. Some other rakhi gifts which you can send to your sister on Rakhi are sarees, fancy bags, jewellery, watches, soft toys and the like. When you are sending rakhi to India to your brother, you would certainly like to add some gifts. Send the best gift to your brother on Rakhi from the different categories like Men's Wear, Jewellery for Men, Electronics, Mobile Phones and Perfumes. Gifts Hampers and Gift Vouchers are perhaps the best gifts that can be sent to your sibling on the festival of Rakhi. Other than these, you can also choose gifts from the categories Spiritual Gifts, Wall Pictures, Kitchenware, Home Decor items, Show Pieces, Photo Frames and Silver Gifts for Rakhi.
In addition, you can also send a lovely rakhi greeting card from the section, Rakhi Greeting Cards. However, if you know how to make a rakhi greeting card, you can certainly make one. With Giftstoindia24x7.com do not worry about the delivery of your preferred gift. All you need to do is place the order and surprise your sibling with wonderful gifts from our website.