Celebrate the bond of love between brothers and sisters
India is a land of varied culture and festivals. Amongst all, Rakhi is one of the most famous festivals of India. Rakhi is an auspicious festival to commemorate the eternal bond of love between brothers and sisters. Rakhi is celebrated with great pomp and grandeur by Indians. The customs may vary in different regions, but the essence of the festival remains unchanged. Rakhi is celebrated every year on the full moon day of Hindu month of Shravan. On the occasion of Rakhi, all the family member gather to celebrate the day with grand feasting and merry making. Not only dinning together, exchanging Rakhi gifts among family members and friends and distributing sweets add beauty and special charm to this sacred occasion. On this very day, sisters keep fast, puts 'tilak' and ties the Rakhi thread on the right wrist of their brothers while chanting mantras. Rakhi is celebrated for the well being and long life for their brothers. Brothers in return pledge to protect their sisters from all thick and thins of life through out their whole life.
Rakhi is a beautiful love bond shared by brothers and sisters since from their childhood. Thus, it is the unspoken agreement between both bothers and sisters to protect each other from every adversity. Various online gifting portal have come up to assist their customers to send gifts to their dear ones at various places. Amongst all, Giftstoindia24x7.com is mention worthy online gifting portal, enabling the global Indians to send gifts. You can make this Rakhi memorable by sending Rakhi gifts to your loved ones. The modern world has compelled many Indians to settle off-shore. Thus they take help of the social networking sites to keep in touch with their friends and families and online gifting portals to send gifts on any occasions or festivals. As Giftstoindia24x7.com has uplifted the trend of e-gifting, you can send Rakhi to India through this online store. Send Rakhi to India this year along with exclusive gifts and make the day more memorable.
To make your searching process easier GiftstoIndia.com has segregated the gifts and Rakhi threads under different categories. The section of Rakhi threads also has been categorized into different sections such as Kids Rakhi, Diamond and Gold Rakhi, Pearl Rakhi and so on. You can select Rakhi threads from the store to send Rakhi to your brother. The trend of sending Rakhi to Bhabis also has become popular. This specially designed Rakhi is known as Lumba Rakhi. Thus you can surprise both your Bhaiya and Bhabi this Rakhi by sending beautiful Rakhi threads through Giftstoindia24x7.com. The gift section has been divided relation-wise and gift wise also. You can select from an array of Rakhi gifts, such as Cosmetics, Home Decor, Soft toys and many more. If you like to give an unique touch to your Rakhi gifts to India you can select gifts from the Personalized gifts section. From Handmade chocolates to personalized T-shirts, Mugs, Posters and Canvas all you will find here.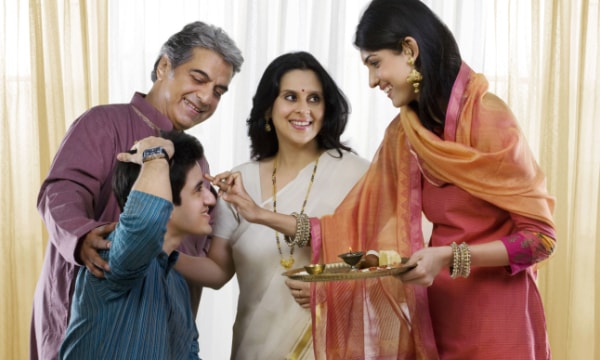 You can also send Rakhi greetings card to your brother along with Rakhi threads and gifts. If you are wondering how to make Rakhi greetings card, then by following this process you can make one -
Material Required:
Handmade card paper/colorful chart paper
Motifs, glitters, colorful beads
A small carved Ganesha/ Swastik
Colorful Pencils
Laces and glue
Method:
Cut the paper of desired size and fold it in the middle
Leaving ½" border, paste the laces along with the border line on the front of the card, colorful pencils can also be used to decorate the card
Paste the motif of Ganesha/ Swastik at the centre
You can also enhance the beauty of the card by pasting glitters and colorful beads
Write the message inside the card
This Rakhri you can also send Rakhi return gifts to your sister to make the festival grand. 24x7 customer care service is there to assist you throughout the whole gifting process. Send Rakhi to your loving brother with exotic gifts to make the occasion even more charming.