Scrumptious Cakes for all special occasions in India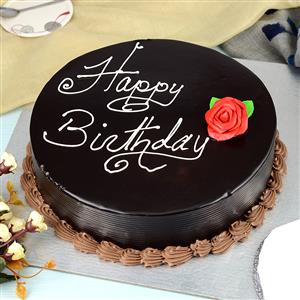 Cakes play a very important role for many special occasions. Today gifting of cakes has become a very popular trend. If you wish to send cakes to India along with other gifts to India, you just need to use the services of an online gift store. Amongst all the online stores that undertakes gift delivery in India, GiftstoIndia24x7.com is quite a popular name.

On GiftstoIndia24x7.com, you will be able to find a variety of egg-less cakes to India. We have cakes ranging from - Five Star Bakery Cakes, Special Cakes, Taj Cakes etc. All the cakes come in different flavors like - vanilla, chocolate, pineapple, strawberry etc. So, when you send gifts to India, add a delicious cake along with it to express your love and affection. It is also possible to make the cakes more special by adding your personal message on it. All the cakes will be delivered fresh to the doorstep of your dear one. If you place an order with us, you also get a chance to use our services like - Midnight Delivery, Express Delivery etc. If you have any trouble while placing an order with us, you can always contact our customer care representatives, and they are available 24x7, only to serve you.

Send cakes and gifts to India via our online store and experience the ease of online gifting. With the development of online gift portals like - GiftstoIndia24x7.com, distance can no longer hold you back to celebrate special occasions with your dear ones in India.

Mr. Amit Desai, CEO of the organization has said, "The delicious cakes available on GiftstoIndia24x7.com will surely melt your dear one's heart in India".