Pay tribute to that special woman with Cakes and Flowers on Mother's Day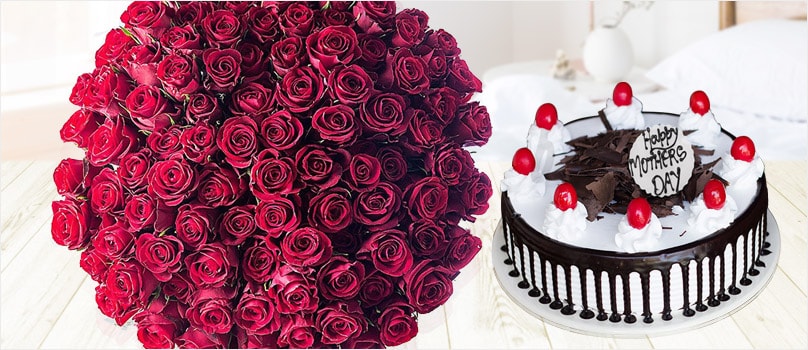 A person experiences various ups and downs throughout his life. The journey of life is very challenging. But that person always finds someone who is always there for him/her whenever he/she is down. That person is the gift of God. She is our mother. Some people refer mother as the true image of God on earth. She always stays with us in spite of difficulties, finds happiness in our celebrations. Making our mothers feel special on the eve of Mother's day is just a fitting reply to everything she has been doing for us. GiftstoIndia24x7.com is a premium online gifting company that helps people from all around the world send Mother's day gifts to India.
Mother's day is an auspicious occasion that is celebrated to thank the mothers for all that they undertook to help us emerge a better human-being. It is a time that is looked-forward by many individual as a day to convey their mothers how special they are. In many families the world-over, children and fathers treat their "lady-of-the-house", especially. In a typical family, it is usually a day-off for the woman who works tirelessly round the year for her family. Children along with their dad make a nice breakfast. Then, it is a fun-filled day with movie-outings and lunch at a fine restaurant. The evenings are spent with various members of the family getting together and having a gala time. But, if you are staying far away from home and want to make your mother feel special, then you can send online gifts to India on Mother's day.

We, at GiftstoIndia24x7.com have got some of the widest range of items which you can send to your loved ones in India on Mother's Day. We specialize in Cakes and flowers. When you want to send gifts to India, you can send some of the choicest cakes with delectable flavours that will surely make your mother happy. You can make a grand statement from the widest range of flowers and flower-arrangements that will make your mother's feel special. Sending cakes and flowers to your mother in India will express your deepest respect and gratitude for your mother. Win your mother's heart, even from miles away with a range of cakes and flowers as gifts to India. These are some of the life's best feelings to see the woman happy, who did so much for us. Sending her a nice gift to India on the occasion of Mother's day will be just apt on your behalf.

Here at GiftstoIndia24x7.com, we have launched a range of special gift items to cater to the festivities surrounding Mother's day India. The gifts will surely express all those emotions which can't be described in words. Gifts such as Jewelleries, Watches, Sarees and sweets are all offered particularly for mother's day festivities. The jewelleries follow the latest trends and so letting your loved ones know how much special they are has never been this easier. We pioneer in sending gifts to India. We deliver to across 500 destinations in India. Our efficient customer support keeps you updated with the latest developments about the delivery status of your gift to India. Let your mother in India know that no matter how much busy you become, you will always remember her. Send gifts to India to the special lady and elate her on this auspicious occasion.