Historical and Regional Significance of Bhai Dooj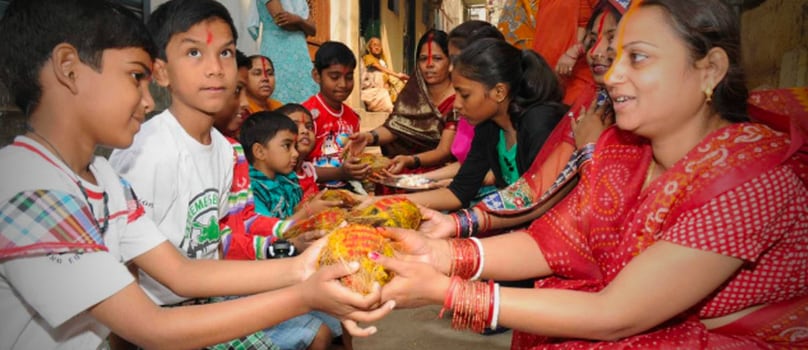 Bhai Dooj or bhaiya dooj is a very prominent and widely celebrated festival of India. The historical significance of Bhai dooj provides us with an insight as to how these festival started at first. Bhai Dooj celebrations are held in different regions of India under different names and with different rituals. Every sister prays for the well being of her brother and applies Tilak on his forehead to protect him from all kinds of evil and bad omen. The brother in turn promises to look after his sister and protect her from all evils and dangers. Also brothers and sisters exchange gifts among themselves. According to the Gregorian calendar, it falls on the 2nd day of Shukla Paksha in the month of Kartika i.e. 2 days after Diwali.
Historical Significance :
According to Hindu mythology, it is considered that the God of Death, Yamraj visited his lovable sister Yami (Yamuna) on this special day. His sister welcomed him with Tilak and Aarti and offered him sweets and adorned him with a garland. In return Yamraj promised eternal love and care for his sister. From that day onwards Yamraj declared that the brother who would receive tilak and aarti by their sister, he would never be frightened. That's why the same day is called as the Yama Dwitiya.
According to another story, Hindu Lord Krishna had returned to his sister, Subhadra, after killing the demon king Narakasur where he was welcomed by his sister with tilak, aarti, sweets and flowers.
Regional Significance :
Bhai Dooj has different regional names and different ways in which the festival is solemnized. It is known as 'bhai-dooj' in the Hindi-speaking belt, 'Bhav Bij' in the Marathi speaking belts, 'Bhai - Tika' in Nepal and 'Bhai Phonta' in the Bengali speaking communities.
Uttar Pradesh :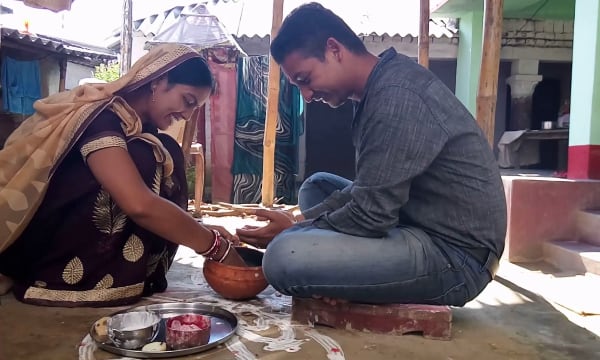 In Uttar Pradesh, the brother is gifted with an `aabf- a length of flax, knotted into a circular shape and dotted with sugar batashas. There are two aabs for each brother. After performing all the rituals that include the sister applying a tilak of roli and rice on her brother's forehead and praying him with an aarti to shed off all the evil effects, the story of Bhai Dooj is narrated.
Punjab :
In Punjab, the day following Diwali is known as tika when sisters make a paste with saffron and rice and place an auspicious mark on their brother's foreheads as a symbolic gesture to ward off all harm.
Bengal :
In Bengal this event is called 'Bhai Phonta', which is performed by the sister who religiously fasts until she applies a 'phonta' or mark with sandalwood paste on her brother's forehead, offers him sweets and gifts and prays for his long and healthy life. Diyas and incense sticks are an integral part of the ceremony. An aarti is also performed.
Bihar :
In Bihar, sisters repeat the behavior of the central character of the story of Bhai Dooj, where a sister saves her brother life by cursing him until he gets married. The curse is seen as a mean to ward off all the dangers and evil effects of the spirits surrounding the brother. The sisters of Bihar start this day by showering choicest of curses on their brothers. After doing so, they prick their own tongues as punishment, with a thorny, wild fruit and ask for their brothers' forgiveness for the curses, and also for past mistakes. There is also a unique custom of brother eating grains of bajri with water, from their sisters' hands.
Maharashtra :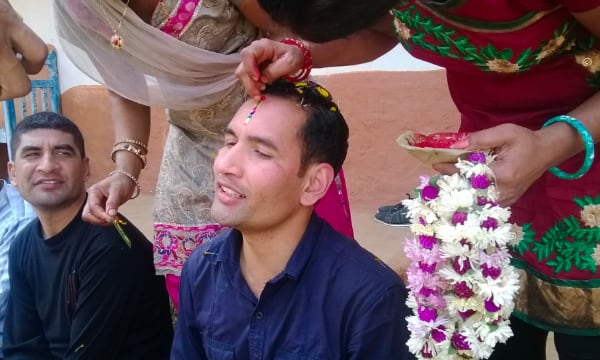 In Maharashtra, the brother is made to sit in a special square place on the floor. Before siting, the brother is made to eat a bitter fruit called Karith. The custom is associated with the story that Lord Krishna tasted this fruit before going to kill demon Narakasura.
Nepal :
This is the second most important festival in Nepal after Vijayadashami. It is celebrated by almost everyone there.
It is customary to give gifts to your sister on Bhai Dooj. You can give your sister in India gifts with the help of this trusted online gifting portal. Also if you stay abroad and are unable to visit your sister then you can send gifts to India from USA very easily from this portal without any hassles.