Rituals Performed During Akshaya Tritiya
The most peculiar feature of Hindu and Jain calendars is that some days are said to be absent while some days are extra; but the occasion of Akshaya Tritiya is never "absent", as it is exclusive in itself. People from foreign land surprise their fellow Indians by sending gifts to India and also purchase gold and other essential commodities, begin their new ventures, worship Goddess Lakshmi and seek blessings on the day of Akshaya Tritiya. It falls on the third day of bright lunar fortnight of the Hindu month of Baishakh and the name Akshaya Tritiya depicts eternal wealth in Sanskrit. This day of luck, prosperity and wealth is complete with a set of rituals. Here are these rituals which set this grand day apart from the rest of the dates of yearly calendar.

On the day of Akshaya Tritiya, charity is done as rice, vegetables, food, clothes, etc. are distributed to the poor and needy people. This day is the onset of new beginnings including the business start ups and ventures. A new financial year and a new audit book are started on this very day, while Goddess Lakshmi and Lord Vishnu are worshipped before that. The holy river Ganga descended on Earth from heaven on this day and so it is considered auspicious to take a bath in the river Ganga on this day. Once in a year planning and beginning are to be done on this day as Akshaya Tritiya is a sanctified day for all new ventures, marriages, start ups, projects, construction and so on. Often people wait for only this day to start something new that matters to them a lot.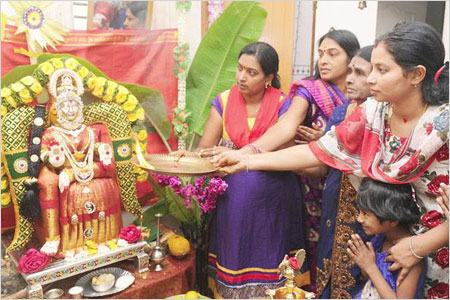 It is believed that on this day Kubera was appointed as the official banker of all gods. He prayed to Goddess Lakshmi and was granted the gift of wealth and prosperity. Thus Kubera Lakshmi pooja is held on Akshaya Tritiya in many households of India. Lord Krishna's best friend Sudama visited Dwarka and offered him rice flakes on this day and since then the Vaishnavas, Lord Vishnu's devotees, fast throughout the whole day of Akshaya Tritiya and end it with rice. Later, tulsi water is sprinkled all around as a symbol of Lord Vishnu. Gold is considered to be the symbol of Goddess Lakshmi and so the buying of gold is the most common ritual performed on this day of eternal wealth. We all give credence to the fact that this particular metal is a worthy asset for an economy and it's prices skyrocket with each passing year. Thus, to increase their wealth people invest in gold on this Akshaya Tritiya.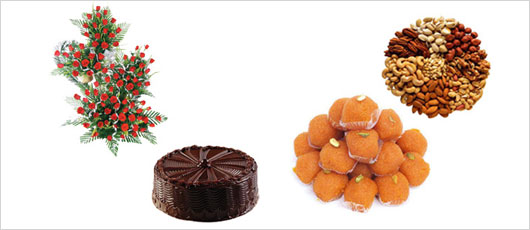 In this online generation, apart from investment for themselves, people also send gifts to India. People never fail to amaze their loved ones by sending mesmerising gifts to India from US, UK and other countries to complement this sacred occasion. Akshaya Tritiya gift ideas include not only readymade gifts but also customized and handmade ones.