Send gift hampers, sweets and flowers on Dussehra
Festivals are an integral part of India's rich cultural heritage. In the months of Ashwin and Kartik, Hindus observe a ten day ceremony of fast, rituals, celebrations, feasts to honor the mother Goddess Durga and also to commemorate the triumph of Lord Rama over Demon King Ravana. This annual carousal popularly known as Dussehra, symbolizes the triumph of good over the evil forces of nature. It also seeks to restore peace and contentment in the lives of people in general. If you are wondering as When is Dussehra in 2011 then note that it has fallen on 6th October. As in this season, a variety of festival takes place, the months of September-October is celebrated with lots of vigor and enthusiasm.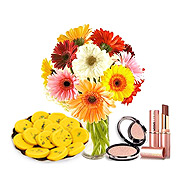 Of late interchange of gifts happens to become popular world-wide. Gifts are highly significant as it reveals a persons hearty feelings and also state of his mind. Besides that, there's nothing like a surprise gift to a person you adore as it amuses him/her when they are dejected and amazing them when it is least expected. Keeping in mind the significance of gifts, online gifts portal GiftstoIndia24x7.com has launched a wide profusion of gifts. So, if you stay in any corner of the World and want to enlighten the mood of your dear ones in India, send gifts to India through this e-gifting portal.

Dussehra 2011 can be celebrated by exchanging a variety of gifts. The "Dussehra Gifts" section in the site lists a wide variety of gifts. Among a wide plethora of gifts available in the site, gift hampers are most recommendable. As they comes in a collection of gifts like flowers with chocolates or dry fruits or teddies, they seek to satisfy the recipient whole-heatedly. The gift hampers showcased in the site comes in a variety of ranges. For example, if you want to amaze your little ones in India, you may send a hamper comprising of a cute teddy, a box of sumptuous cookies and chocolates along with a gift voucher. However, for your female counterparts, hamper comprising of gift vouchers, aromatic flower bouquet or perfumes seems perfect. To exhilarate male members, hampers including apparels, accessories, gift vouchers or perfumes are best.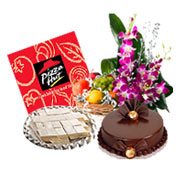 Sweets are also considered exciting gifts to India. A wide plethora of mouth-watering sweets like gulab jamun, rosgullas, kaju suraj etc. are available in the site. This Dussehra make your dear ones in India share a sweet and warm relationship with everyone. Multifarious types of sweets like Indian sweets, sweets hamper, sweets thali or tinned sweets are displayed in the site. The fresh delectable taste of the sweets be it syrupy, dry-fruits or kheer variety are sure to bewilder your recipients.
In addition to that, you can also flabbergast your dear ones by sending fresh flowers as gifts to India from US. Flowers are considered the most amazing gifts as they speak more than words. A corsage of flower can create wonders in solving various issues in life. Be it felicitating a newly married couple, conceding heart-felt thoughts to loved ones, comforting a bed-ridden patient or extending last respect to a deceased person, it works wonders in expressing feelings. Keeping in mind the multifarious purposes to which alluring flowers caters to, the site has launched a wide variety of flowers to earmark the occasion of Dussehra. Be it heart warming Carnations, multi-coloured Roses, gorgeous Gerberas, beautiful Orchids or enchanting Lilies, they are well arranged in this section to meet your purpose.

Along with this gifts, you can also send other Dussehra gifts like apparels, gift vouchers, jewelleries, home decor items, watches, dry-fruits hamper etc. from the site. Select, order and send such exotic gifts from this portal to avail a safe, hassle-free and secure shopping experience. So, every-time you want to astonish your loved ones with outstanding variety of gifts, avail different services of the site.