Sargi: The best gift a mother can give to her daughter-in-law
Sargi is the best Karwa Chauth gift idea which a mother can gift to her daughter in law.
The Hindustani culture is vibrant and one can get to see a variety of auspicious occasions celebrated throughout the length and breadth of the country. The Sargis are good Karwa Chauth gift ideas. The gift is offered during the Karwa Chauth festival. In this context, it requires to be said that the Karwa Chauth is a festivity that holds significance for Hindu women. The Karwa Chauth festivity is celebrated by the Hindu ladies for the well being of their husbands.

What is Sargi?

There are a number of gift items that a mother can give to her daughter-in-law. But out the numerous, the best one is considered the Sargi. It is a sweet dish and contains kaju, badam along with meethi mathri. Sargi is quite popular among the Hindu community, especially during the Chauth festivity. The e-commerce websites display a host of other gift items that are apt for the Chauth. Against each of the gift is displayed the price so that the customers do not have any issue while making decisions regarding purchase and sending quality yet cheap gifts to India.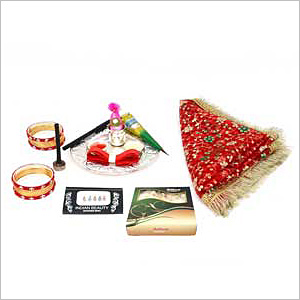 Gifts related to Sargi
With reference to the Sargi gift, it is pertinent to say that many other gift items are easily available and offered by many online gifting portals.

1. Chocolate, Sweets Combo Hamper As Sargi

The sargi is also given by a mother to her daughter in law. The sweets combo hamper is quite popular and many women prefer to use them as ideal gift items.

2. Flowers, Fresh Fruit Basket as Sargi

The gift incorporates kaju, badam, meethi meethi and a whole lot of other auspicious stuffs. The saas to bahu (sargi) gifts in these portals incorporate, mathari and chappan bhog, meenakari channi and karwa along with exotic dry fruits, exquisite meenakari work along with pooja accessories, karwachauth thalis, mithais, sweet salty stuffs, appetizer, dry fruits, and pista rolls, namkeen, bandhani sarees, dry fruits with meenakari work pooja thali, almonds, dry-fruit dates, bandhej chunri, flowers, karwa chauth sargi.

3. Karwa Chauth Sargi Thali

This thali includes 1 decorated steel thali, 1 Chunnari, 1 Haldiram's 500gm Lachcha Semai, Bangle set, Kajal-Pencil, Mehndi, Bindis, Kalash & Nariyal, Roli-Chawal battis one agarbatti, and a red ribbon. The besan ke laddoos with kaju puddings, boondi laddoo are quite popular sweet dishes in this festive season.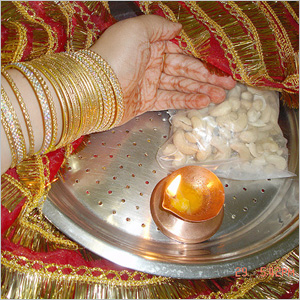 As the Karwa Chauth festival is approaching, strengthening the saas bahu bond by choosing the most appropriate gifts becomes important on the part of the newly married women as well by mother in laws. There are websites available online that offer a wide variety of gifts for the special occasion. For those living outside the country, delivery of the gifts to India online is done using e-commerce websites that are ideally suited to sell Karwa Chauth related items to potential clients, customers. There are a number of websites to send gifts to India from abroad. However, in the context of the Karwa Chauth, it needs mentioning, that the festivity and the rituals associated with it are complex. Amidst so much of complexities, the Indian women find the Sargis as befitting Karwa Chauth gift ideas, it's worth mentioning.