Customs and Traditions of Durga Puja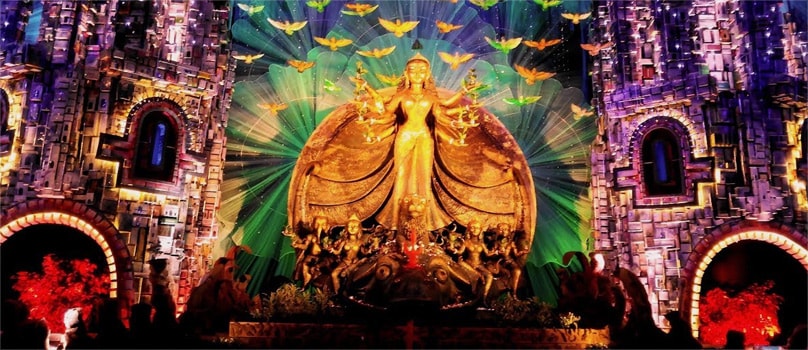 If there is one festival with which the Bengalis are synonymous, then it has to be Durga Puja. The festival is celebrated with much pomp and zest throughout West Bengal and the state lights up like a newlywed bride. The customs and traditions of Durga Puja are worth knowing. So if you are ever headed to the land of Goddess Durga, you better be prepared to participate in her festival. Every Bengali all over the world is always geared up for the big celebration of the arrival of Goddess Durga as the festival is celebrated in the month of Ashwin which generally falls between September and October and the Lakshmi Puja is held on the next full moon. If you haven't bought your gifts for your friends, then you can send gifts to India same day delivery using this very reliable online gifting portal.

Durga Puja is celebrated for a span of 10 days and there are big pandals on every street of the city which makes them look even more beautiful. If you are an NRI or have recently shifted abroad, then you must be missing these celebrations a lot. Although it will not make up for your absence, you can send gifts to India and make your family and friends happy. You can search this online gift store for finding cheap gifts to India which are every bit appropriate for the celebration of Durga Puja. For those who don't know much about the festival, read on to get yourself acquainted to the best festival in India.
Customs and Traditions of Durga Puja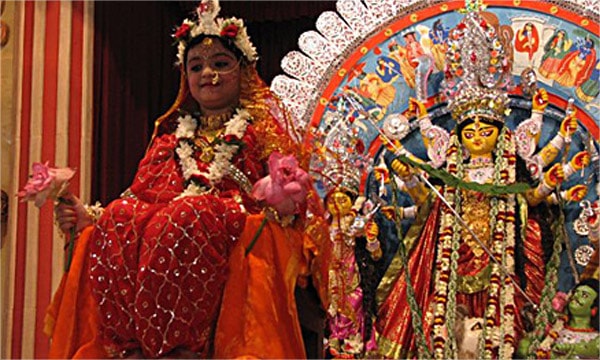 The belief regarding this auspicious festival is that it is celebrated from the new moon of Ashwin month and continues for the next 10 days. The fifth day is observed by unveiling the face of Goddess Durga who has descended from heaven with her children. The zeal of the festival keeps reaching a notch higher with every day and the celebration becomes more fun filled. There are many dance performances held at the pandals or makeshift tents where Goddess Durga has been placed. The commencement day of the festival is called Maha Shashti which marks the beginning of the celebration of the arrival of Goddess Durga. Maha Saptami is the seventh day of the festival and the rituals of this day includes dressing a tree in a yellow silk saree with a red border. This is done to commemorate the importance of Goddess Durga who is believed to reside in the tree from the seventh day onwards. Rest of the celebrations involves around this tree as well.

Coming to the eighth day of the festival, that is Maha Ashtami, there are recitals of the sanskrit hymns and anjali is offered to Goddess Durga. Kumari puja, which is the worship of young girls, takes place on this day in the morning and it is the main highlight of the day. Sandhi Puja is held in the evening which is believed to serve as a link to the Maha Ashtami and Maha Navami which is the next day of the festival. Maha Navami is the ninth day of the festival and it is believed to be a day of merriment as there is only fun and frolic in the form of dance and music held throughout the day. The last day of the festival is marked with the farewell of Goddess Durga as she is immersed in the water until she returns to her devotees next year.
Chocolates are a good gifting option and here you will find three different categories. There are chocolates and cookies, chocolate hampers and handmade chocolates and they represent three different fields in the world of chocolates while of them are delectable. A gift of dry fruits is also a very welcome gift in such occasions. Crispy crunchy dry fruits like almonds, pistachios, raisins, cashew nuts, walnuts and mango candies are available here for the delight of your loved ones. Durga Puja is simply unimaginable without a gift of delicious sweets. Sumptuous sweets like mawa shankh, kaju suraj, kaju pista roll, kaju barfi, kesar peda and many more such tasty treats.
You can also choose a Durga Puja gift hamper for your friends and family in India. These hampers contain many interesting items like cakes, flowers, fruits, dry fruits, chocolates, cookies and a lot more. These wonderful gifts found collectively in a hamper will definitely elate your loved ones in India. A Durga Puja thali will also make a wonderful gift in this occasion for your dear ones in India. The thalis available on our gifting site have been sub divided into three separate categories. There are chocolates thalis containing yummy chocolates, dry fruits thalis which have sweet and salty dry fruits and sweets thalis having finger licking sweets.
You can easily send these items as gifts to India on the occasion of Durga Puja.Also, if you are far away and you have someone who has birthday at this time of the year, you can send birthday gifts to India using the cheap and reliable services of this online portal. Unique gifts for other occasions are also available here.