Celebrate Dussehra 2012 with wonderful gifts to India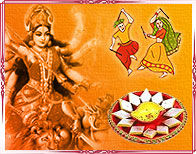 Since India is a land of many religions and cultures, people of this country celebrate various occasions and festivals throughout the year. Amongst all, Dussehra is one of the most important festivals of the Hindus celebrated in the month of Ashwin and Kartik. They observe a 10 day ceremony of fast, rituals and celebrations to honor the triumph of Lord Rama over demon king Ravana. Dussehra also symbolizes the victory of Goddess Durga over Mahishasura. Thus, it is a celebration of victory of good over evil. The celebration starts on Navratri and ends on the 10th day known as Dussehra. Now-a-days people irrespective of any religions take active part in the Dussehra celebration. Now if you are wondering when is Dussehra in 2012, then please make a note that Dussehra 2012 will be celebrated on 24th October.

It goes without saying that festivals and occasions go hand-in-hand with gifts. Hence to make your loved ones day memorable you need to present them something nice. Hence once again the time has come to visit various gifts shop to pick the right one. And there are chances that your gift will not always be loved by the recipient. Moreover if you want to send her/him a hamper (an assortment of various articles arranged together), or a personalized Dussehra gift then you have to hop one store to another. To make your gifting process hassle-free, various e-gifting portals have come up. GiftstoIndia24x7.com with its wide variety of articles and on time delivery has made the site statndout from the rest. Its 24x7 customer care team is always these for your assistance while in the gifting process. Now when you have already noted when is Dussehra, you can browse through the Dussehra gifts section and pick the right gifts for your loved one.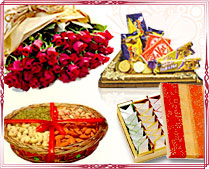 In the Dussehra gifts section, the site has showcased articles ranging from, Gift Vouchers to Apparels, Gift Hampers to Flowers, Jewellery to Silver Gifts and many other to name a few. Since, gifting, treating, wearing new clothes are the essence of this auspicious occasion, GiftstoIndia24x7.com has arranged a wide collection of items to choose from. Tantalize your loved ones taste buds by sending them delicious sweets such as diamond kaju, kaju suraj, kaju pista roll, kesaria peda, karachi halwa and so on which are available herein. Your gifts to India will reach the recipient just on time. The site also has brought to you impressive apparels for both men and women. In the Men's Wear section, all the clothes arranged here are from popular brands such as Louis Philippe, Allen Solley, Park Avenue and many more. In the apparels section for women, you will find traditional clothes such as salwar suits and sarees. Give her a complete look, by sending attractive jewelleries to her along with clothes. In this section golden jewelries, fashion jewelries, gold plated jewellery, pearl jewelry etc are available.

Sending one with chocolates and dry fruits this Dussehra would also be a great idea to treat them. When dry fruits such as cashews, raisins, almonds, pistas and dates come with branded chocolates such as Dairy Milk, Bournville, Kitkat, Lindt, Ferrero Rocher will definitely make a grand treat. Apart from these, you can also find handmade chocolates and sugar free chocolates for the diabetics in the chocolate section. You can also couple enticing flowers to heighten the beauty of your gift.

Send gifts to India through GiftstoIndia24x7.com on this grand festival and make your loved ones day memorable. He/she will undoubtedly treasure the memories for a long time.