7 Best Gift Ideas for Akshaya Tritiya – the Day of Prosperity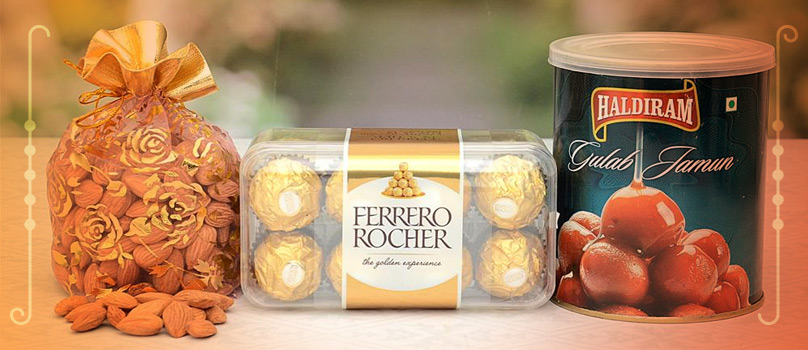 Akshaya Tritiya - the day of eternal prosperity, is considered to be an auspicious calendar day to open and inaugurate new undertakings. Hindus and Jains celebrate this day with a lot of grandeur. Also well-known as Akha Teej, Akshaya Tritiya is observed on the 3rd day of the Shukla Paksh. Akshaya in Hindi means "Never Diminishing" and many believe that all wealth made on this day accumulates more round the year. Lakshmi, the goddess of prosperity and wealth, Gaja [elephant], Aswa [Horse] and Gou [Cow] are worshipped on this day grandly. Besides this, Akshaya Tritiya gifts to India have become an integral part of this festival.
Everyone wants to offer the best Akshaya Tritiya gift to their loved ones, and then comes the most difficult part, deciding what to give! Here are some unique gift ideas for Akshaya Tritiya that can be included in the chart.
Silver Gifts
In traditional occasions like Akshaya Tritiya, there is no substitute to Silver gifts. A wide range of things come under 'silver gifts'. A silver coin as a symbol of auspiciousness and holy silver Idols can be a good gifting idea to make this festival memorable. It is true that silver earrings or rings can be one of the best Akshaya Tritiya gifts. One can also opt for gold plated silver gifts to cherish their loved ones on this festival. Thus, silver gifts is considered to be one of the best gift ideas for Akshaya Tritiya.
Sweets
If your Akshaya Tritiya gift chart should have something as must, that is a box of sweets. A sweet box containing a wide variety of sweets completes the celebration of a festival like Akshaya Tritiya. Relatives and friends living abroad try to get the charm of the occasion by sending and receiving gifts from their loved ones. Sending gifts to India is one of the best ways they find to feel the presence of their family around them. Many Shops like Haldirams, etc. offer a sweet-box especially for Akshaya Tritiya. You can simply order online to get an exclusive box of delicious sweets.
Cakes and Flowers
Cakes and flowers are undoubtedly the best gifts one can give or receive on any occasion. So, this is a must have gift item in the the list of gift ideas for this festival. As this festival includes Lakshmi puja at homes, flowers can be a splendid option. Here are some of the best and unique gift ideas for Akshaya Tritiya. Choose a combo pack of yummy cakes and beautiful flowers and bring a smile on the face of your dear ones!
Dry fruits
Sending gifts to India has become an integral part of Indian festivals including Akshaya Tritiya nowadays for those who live abroad. In order to make your loved ones happy, there are a very few things that can compete with a dry fruit pack. A box of dry fruits containing almonds, big cashew nuts, decorated with beautiful gift bags or boxes can bring a smile on the face of your dear ones.
Jewellery
Jewellery should top the chart while talking about gift ideas for Akshaya Tritiya. It is the day celebrated as the festival of wealth. It is believed that the more wealth you accumulate on this day it gets manifold and brings prosperity. Gold and silver coins are kept for worshipping goddess Lakshmi on this festival. Hence besides buying silver or gold jewelleries, there is also a ritual of gifting beautiful jewellery on Akshaya Tritiya. Many family members or friends, who miss the celebration, often send gifts to India, which is a good way of getting a feel of Akshaya Tritiya.
Gift Hampers
Gift hampers are a collection of different kinds of gifts packed together. While thinking of gift ideas, gift hampers should not be missed. Order online to get best and exclusive gift hampers. Hence, one can get the opportunity of reducing both time and labor while offering a gift of his/her dear one's choice. In the case of sending gifts to India, this can be one of the best options.
Gift Vouchers
A gift voucher of any shop as an Akshaya Tritiya gift can make your dear ones feel special and happy. They can shop anything of his/her choice. The recipient can buy any dresses or books or anything else he/she wants. A gift voucher is the best option for individuals living abroad as they can quickly send this as gift to India as per their convenience.
Wish your loved ones Happy Akshaya Tritiya and make them feel special on this festival through exclusive gift ideas. Make the celebration grand with amazing gift ideas.