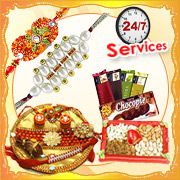 Since 1999, the premier online gifting portal, GiftstoIndia24x7.com has engaged itself determinately in the service of the global Indians, enabling them to send gifts to India. From the very beginning, the prime endeavor of this company was providing the best to its customers. This pioneer online gifting mall has never compromised with its customer satisfaction. And to ensure complete gratification, it has start off its 24x7 service. By availing this service, now, a customer can place an order anytime, even at the middle of the night!
This 24x7 service is specially meant for those living abroad. The time difference between the two halves of this globe is the key factor here. GiftstoIndia24x7.com has already started its 24x7 customer support service so, the latent concerns of the customers and their queries can be sorted at any time of the day. This service facilitates the worldwide customers sending gifts across India anytime, on any hour of the day.
The CEO of the company, Mr. Amit Desai was quoted as saying, "Time and time again GiftstoIndia24x7.com, we have been permuting and combining things, in order to serve you better. Even after receiving high accolades from every part of this world,we have vowed to our commitments." GiftssoIndia24x7.com's 24x7 gifting service along with Midnight delivery and same day gifts to india delivery service will continue its command over the online gifting domain in the near future as well.