Gifts are always the best way to say "you care." Probably, gifts have the magical power to bridge the gulf of barriers and conveying heart warming messages to native fellowmen, the loved and dear ones, who are separated by time and space. Especially during any occasions or any particular festival, gifts become the most reliable mode of conveying regards, wishes, love and blessings. The gesture of sending gifts have become synonymous to almost each and every occasion. Gifts can sooth the hearts of both the sender and the recipient.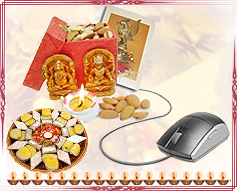 GiftstoIndia24x7.com is an online gifting site offering plethora of gifts to choose from. The site also covers multiple sections which includes gifts for parents, gifts for kids, gifts for teachers and various other gifts that are apt for different occasions and festivals. This Diwali, GiftstoIndia24x7 promises to connect the global Indians to their Indian roots, through their huge range of gift items. This online gifting site has come up with a brand new collection of spiritual gifts to India like shagun coins, silver puja thali, devotional CDs, holy pendants of gold and diamond especially selected to add a festive flavour to the Diwali celebrations. The site presents wide assortment of delicious sweets and chocolate hampers that will tickle the taste bud of all. Apart from these, apparels for men and women are available in a wide variety that includes formal shirts for men, salwar suits for women, watches, cell phones, perfumes from internationally renowned brands. There are exclusive Diwali thalis decorated with colourful rangoli, Puja thalis and many more.These gifts are priceless when you choose to send them to India the people you love the most. GiftstoIndia24x7.com also brings a huge collection of colorful diyas, exclusive home decor items like spiritual wall hanging and beautiful door hanging. With such assortment of exclusive gift items, GiftstoIndia24x7.com promises to make the occasion of Diwali much more special for your near ones.
GiftstoIndia24x7.com as an online gifting company, has taken a keen attempt of connecting the global NRI's with their Indian roots. They offer a wide range of gifts and gift ideas exclusively for Diwali. The gift hampers and different gift vouchers will take your dear ones by surprise. The wide assortment of exclusive gift items they offer, are fascinating enough to make Diwali of your dear ones something special.
Recently, on the context of inter connection between festival and exchange of gifts, the CEO of the company, Mr Amit Desai quoted: "India is a land of festivals. On any pious occasion, it is always our honest endeavor to connect the people who reside outside India with their near ones in India. This Diwali we are essentially trying to spread the festive spirit all round the globe."
Gifts always strengthen the bonds. Gifts are for every occasions. Gifts are the way to convey reverence, gratitude and regards. GiftstoIndia24x7.com brings you some exclusive gift items that can be sent during any occasion, This year, celebrate the festival of light with all vim and brio with GiftstoIndia24x7.com, as it guarantees a prompt service of delivering the gifts, wrapped with your unspoken emotions, sentiments and the feeling of hearty love and care.