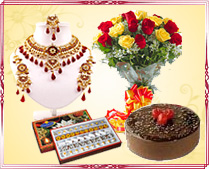 An anniversary is a very special day in everybody's life. A particular day marking any momentous event that calls for some jubilation, an anniversary necessarily involves gifting to the very core. A high time to wish all the best of wishes, anniversary gifts to India should always be therefore, well-chosen. To create a separate niche in showcasing some unique yet apprehensive anniversary gifting ideas, GiftstoIndia24x7.com has truly thought out of the box. It is for over a decade now, that this very site is facilitating to send gifts to India on such a time of celebration. With a plethora of mesmerizing gift ideas, the site is all potential to be the ultimate stop in catering you with the nicest of anniversary gift.
Rightly said Mr Amit Desai, the CEO of GiftstoIndia24x7.com, "Sending an anniversary gift is always held to be special. Eying to this, we at GiftstIndia24x7.com, has introduced some beautiful e-gifting ideas that you can select and send to India on one's anniversary. All these anniversary gifts to India are surely capable of winning you a special place in their hearts."
Ranging widely from flowers n cakes to gift vouchers, from jewelries to perfumes, these gifts are sure to impress your friends and family in India to the most. The addition of personalized gifts to India that you will find herein are also all poised to be a sure-shot heart winner. Just select and send these anniversary gifts to India, and experience how you move close to your near and dear ones all the more. Make the most out of this jubilant occasion, send your anniversary gifts to India through GiftstoIndia24x7.com.