Truly acclaimed as the epiphany of fun, festivity, and good times, Diwali in India is a symbol of fortune, prosperity, and wisdom. It is a time to celebrate the victory of good over the evil. Diwali - a festival that marks the glorious march of light of knowledge along with it.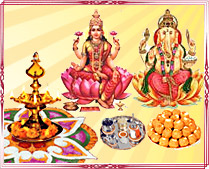 In case you do not know that when is Diwali in 2010 then it is to inform you that Diwali falls in Friday, November the 5th in this year. So now as you know that when is Diwali 2010, you ought to prepare yourself to buy a gift that will harmonize the occasion to the best.
The tradition of exchanging gifts on special occasions holds a special place among all Indian communities. It is an age-old gesture that is believed to bind the people in a single chord of mutual harmony, love and affection. When it is one of the most eponymous Indian festival of Diwali, gifting probably is the core essence of it.
However, selecting an apt Diwali gift to vivify this beautiful festival often requires a brainstorming effort. Below given some ideas which will definitely come in handy to meet all your needs to send gifts to Indiaon Diwali:
Puja Thali: On any Indian ritual, a Puja thali is a must. Puja thalis consist of the necessary articles that are used in a performing a ritual. A Puja thali generally consists of incense sticks, Mangal Kalash and Shagun Nariayal, Roli Chawal and Roli Tika dabbis, sometimes holy idols and Shagun Coins. Thus gifting Puja thalis on the occasion of Diwali is a noble affair. Convey your regards and good wishes to your family in India and let the divine blessings bestow upon them. Beautifully decorated and handcrafted puja thalis welcome the Goddess of Wealth Lakshmi to your home and be blessed with prosperity.
Sweets: No festive season can be complete without tempting your taste buds with delicious sweets. And on Diwali, Sweets and delicacies hold a special place. With an array of lip-smaking sweets and sweets' hampers, let your dear ones relish the savory taste of the delicacies on Diwali. The perfect treat for all gourmets, therefore, you can present sweets in case you are not able to decide on anything else.
Chocolates: Chocolates are for every occasion. These delectable confectioneries express the pure emotions of a soul in a righteous manner. So, this Diwali, you can send box of yummy chocolates to your loved ones in India and let them embrace the rich taste of fun and festivity forever.
Dry Fruits: Dry Fruits are the combination of taste and nutrition. An assortment of dry fruits is sure to bring water in mouth of any one and when these dry fruits come as Diwali gifts? Let your loved ones be fascinated with the mixed emotions of this dry fruits' assortment. Exclusive dryfruits hampers are also a worthy choice on Diwali.
Spiritual Gifts: Diwali is the celebration of the triumph of virtue over vice, it is also the time of paying reverence to the Almighty. Presenting spiritual gifts like spiritual Cds and dvds, shagun coins and spiritual hamper to your family in India will be a very noble gesture on your part. Let them be sanctified with divine blessings.
Diyas and Candles: Deepavali is the festival of lights. So, both diyas and candles are inseparable entities of Diwali. Nothing can be best gifted than a set of beautifully bedecked diyas or a set of bright colorful candles. Brighten up the mood of festivity and send these as your Diwali gifts to India
Gift Vouchers: Elegant and exclusive are the two words that can give a fair description of gift vouchers. You can choose them at your affordable range and the receiver can use them at their convenience. So, try the latest gifting trend on this Diwali, and send gift vouchers to India.
Silver Gifts: Silver Gifts are the most admired traditional and holy gift items for the occasion of Diwali. These are available in a wide variety including silver holy idols, silver coins, silver thalis and silver accessories. Silver gifts, therefore, are definite to earn much popularity as Diwali gifts.
Diwali Gift Hampers: Gift hampers are a shoo-in to celebrate any momentous event to the very best. Fantastically fused with various ingredients, gift hampers are one of the bright choice for enjoying the blissful celebration of Diwali.
Jewelleries: A jewellery assortment is necessarily designed to glitter any of a festive occasion to the best. Inveigle the female members of your friends and family with jewelleries on this festival of lights. Bejewel the moments of Diwali with the ravishing collection of elegant jewelleries which are a fusion of aesthetic beauty and contemporary style.
Apparels & Accessories: Everybody of us love to be gifted with apparels and accessories on any festive moment. So, you can easily bank upon some designer apparels and accessories to your near and dear ones in India and win those special hearts in this special occasion of Diwali.
Flowers and Cakes: Flowers and cakes can be gifted any time and on any occasion. Flowers are the expression of your deep love and joy for someone you hold dear, and so are cakes. So, make your special ones feel more special by sending flowers and cakes as Diwali gift to India.
Crackers: The night of Diwali is all about fireworks. You cannot think of celebrating Diwali in India without bright and sparkling crackers! It is believed that burning of the crackers and filling the skies with its smoke is an expression of obeisance to the heavens for the attainment of health, wealth, knowledge, peace and prosperity. Presenting Diwali Crackers on this special occasion will is one of the best options.
Home Decor: Let your loved ones decorate their houses with an amazing collection of ethnic wall hangings or door hangings on this festive season. Furnish their desires to makeover a dream house with a new style that will surely bring luck and prosperity to the family.
But nowadays, with more and more Indians settling abroad we always search for better and reliable ways to send gifts to USA on occasions like Diwali. Here comes in the help of the premier e-gifting site of India, GiftstoIndia24x7.com. Thanks to their efficient services across the Atlantic, now you can easily send your Diwali gifts to USA from any corner of the world.
May the new dawn of this festival of lights will dissipate all that is shrouded by ignorance, and bring a ray of renewed aspiration, hope, and wisdom of intellect to you and family. Happy Diwali!