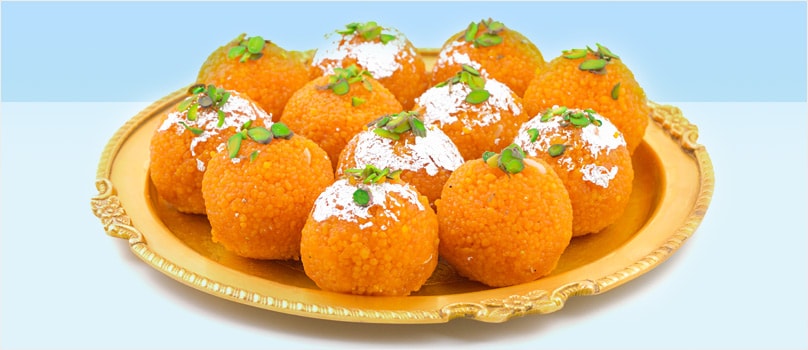 Diwali, one of the main festivals of India is right around the corner, hence the time has come to celebrate this festivity with your relatives and friends. Diwali generally is observed in the month of November, according to Gregorian calendar. And this festival generally falls in between mid -october and mid-november. and according to the hindu calender it falls on the darkest night of lunisolar month called kartika. If you are settled somewhere offshore, you need to take the assistance of online gifting portals to send gifts on this grand occasion. If you are clueless what site to select to send gifts online, you can take the help of GiftstoIndia24x7.com, one of the most popular sites that has been facilitating the global Indians to send gifts to India. With its broad collection of gifts and proficient customer care team, this site has won million of hearts wide across the world.

For gifts you just need to browse through the Diwali Gifts to India section to get a wide range of articles arranged under different categories. All these gifts will definitely make you feel lost while shopping. Moreover your gifts to India will reach on time and will surely add charm to the festival. If you are in India, you can relish many delicacies available at your nearest stores. But being in abroad, it is really hard to find these authentic delicacies. Hence we can give you some recipes of delicious desserts you can prepare at home for Diwali -
1. Rava-Besan Laddoos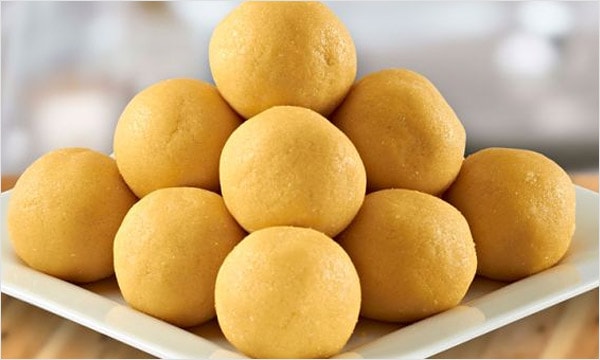 Ingredients:

1 cup Besan (Gram Flour)
1 tbsp Ghee
2 cup Rava
1 cup Sugar
1-2 cup Water
Sliced Almonds and cashews to garnish

Method:
Pour ghee in a non-stick pan. Once the ghee is melted add rava to it and saute it till it becomes faint light pinkish and starts giving out a roasted smell. Don't overcook it.

Then add the besan to it and saute again for about 5 mins till the mixture becomes golden brown in color.

Along with this, keep another pan to make the sugar syrup with all the sugar and water. Keep stirring the sugar syrup and check the consistency till it comes to single-wired texture (take a little sugar syrup between your fingers and check to see that the syrup forms a single thread as you pull your fingers apart).

Take the rava-besan mixture in a plate and allow it to cool. Once the sugar syrup is done add it to the rava till it becomes like a thick paste. Keep adding the syrup a little at a time, just enough so you can make a loose ball when you take some mixture in your hand.

Mix everything well and let it rest for 7-8 hours or even for overnight, to be on the safer side. You can see that the mixture when cooled enough, it becomes a bit thicker than before. Make laddoos out of it and garnish them with sliced almonds and cashews.

These can be stored in an airtight container for about 10-12 days at room temperature, and more if refrigerated.
2. Koprapaak (Coconut Burfi)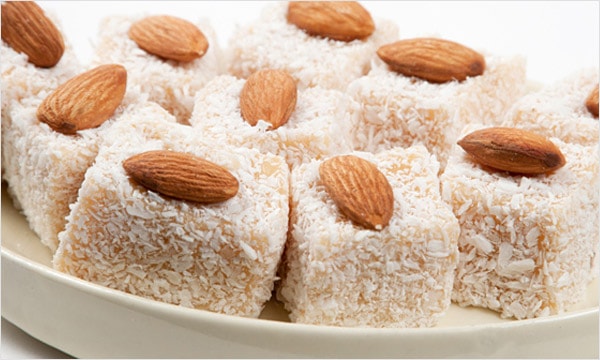 Ingredients:

1 can condensed milk
2 cups grated coconut
2 tsp cardamom powder
2 tbsp sugar
1/4 cup nuts – chopped (pistachios, almonds, cashews)
A few strands of saffron – to decorate

Method:

Keep a little coconut and a few pistachios aside for garnishing. Mix the condensed milk and the remaining coconut in a bowl. Add the sugar and elaichi powder and stir on a low flame for about 4-5 mins. The milk is already thick, so don't over-heat else it may get burnt. Remove from flame, then add the chopped nuts and set aside till the mixture has cooled down enough to handle with your hands.

Give it shape of small laddoos (round balls). Roll each laddoo in a little grated coconut. Garnish each with pieces of pistachio and saffron. Alternately, you can spread the mixture after removing from flame into a lightly greased plate or thali which has edges. Then use a knife to cut into squares or diamonds if you want to make Coconut Burfi instead of laddoos.

Since Diwali is an auspicious occasion let all celebrate it in a grand way. Now when we have already discussed when is Diwali, you can make a plan for the day from now onwards. Let your relatives and friends relish these desserts this Diwali.