Gift Delivery Statistics

for Jamshedpur

No. of gifts delivered in Jamshedpur - 304
About

Jamshedpur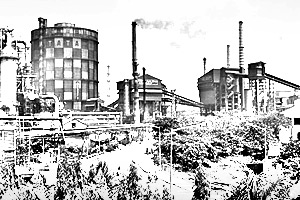 Jamshedpur is the largest and the most populous Urban Agglomeration in the Indian state of Jharkhand. It is the largest city in Jharkhand, and a major industrial zone in Eastern India . Jamshedpur is the first planned industrial city of India, founded by Jamshedji Nusserwanji Tata. It is also known as Steel City, TataNagar or simply Tata. Jamshedpur was declared the 7th cleanest city of India for the year 2010 according to survey by the Government of India. It has been predicted as the 84th fastest growing city in the world for the timeframe 2006–2020. It has a population of 1,337,131 according to 2011 census. Jamshedpur Urban Area is the third Largest city in Eastern India. It is located on the Chota Nagpur plateau and is surrounded by the picturesque Dalma Hills. The city is bordered by the rivers Subarnarekha and Kharkai on the north and west parts of the city.
PIN Codes

in Jamshedpur
These PIN Codes are those where we can arrange delivery of Gifts to Jamshedpur .
"HD" represents "Hand Delivery". For these PIN codes, delivery will be done by hand on the date you choose.
"CD" refers to "Courier Delivery". For these PIN codes, the gifts will be shipped through our shipping partners & will be delivered during the range of dates selected by you.
CD

Courier Delivery

HD

Hand Delivery
Send Express Delivery of Gifts to Jamshedpur
Have you forgot to order gifts for your loved ones? Do not worry as GiftstoIndia24x7.com offers you Same Day Delivery of Gifts to Jamshedpur where your ordered gifts will reach your loved one within one working day. With Same Day Delivery you won't miss the occasion and will be able to celebrate the birthday, anniversary or any other occasion of your loved ones.
How to Surprise Loved Ones in Jamshedpur at 12 o'clock Midnight?
Do you plan to surprise your loved at 12 o'clock midnight than you have come to the right place as GiftstoIndia24x7.
com delivers gifts to your loved ones in Jamshedpur at midnight.
GiftstoIndia24x7.com brings to you varied collection of gifts that you can send to your friends and family in Delhi even at midnight. We will deliver the gifts exactly at 12 o'clock midnight and surprise your special person. The gifts will be the same that you have ordered as we believe in giving the best online gifting experience to our customers.
Gifts You Can Sent to Jamshedpur
On our website GiftstoIndia24x7.com you will find many gifts that you can send to your family and friends in Jamshedpur. We have in store many gifts like Cakes, Flowers, Soft Toys, Personalised Gifts and many more. Send these exclusive gifts to your loved ones, surprise them and make the most of every occasion. We will deliver the gifts exactly on time and put a smile on your loved one's face.
How Can I Send Personalised Gifts to Jamshedpur?
Sending personalised gifts is just a click away. GiftstoIndia24x7.com brings you unique personalised gifts to send it to your loved ones in Jamshedpur. You can select from photo frame, rock photos, personalised mugs, photo frames etc., for your loved one. Put up your own message and pictures and give a more personal touch to your gift. The personalised gifts will be delivered to the doorstep of your loved ones in Jamshedpur and surprise them whilst making them happy.
Same day delivery of gifts to Jamshedpur
For your near and dear ones living in the steel city of India, Jamshedpur, GiftstoIndia24x7.com brings to you heart winning gifts which gets delivered within 24 hours with our same day delivery service. We provide this service so you can place an order even at the last moment and get it delivered as soon as possible as we understand your emotions behind your gifts and so want you to celebrate the occasion is full glory with family and friends. Choose from the best of gifts from our wide range of collections.
I want to send gifts same day to Jamshedpur. Is it possible ?
Sending gifts to Jamshedpur on the same day is now just a click away. Giftstoindia24x7.com lets you choose from a list of carefully curated items for your loved ones and delivers them within 24 hours of placing your order. Send your love to your friends and family from anywhere in the country or abroad and don't worry about your gifts not reaching them on time.