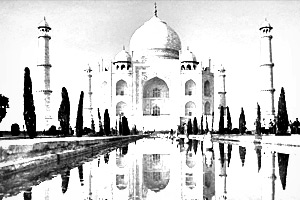 Agra is a city on the banks of the river Yamuna in the northern state of Uttar Pradesh, India. It is 363 kilometres (226 mi) west of the state capital, Lucknow, 200 kilometres (124 mi) south of the national capital New Delhi and 125 kilometres (78 mi) north of Gwalior . With a population of 1,686,976 (2010 est.), it is one of the most populous cities in Uttar Pradesh and the 19th most populous in India. Agra can also refer to the administrative district that has its headquarters in Agra city. It is a major tourist destination because of its many splendid Mughal-era buildings, most notably the Taj Mahal, Agra Fort and Fatehpur Sikri, all three of which are UNESCO World Heritage Sites. Agra is included on the Golden Triangle tourist circuit, along with Delhi and Jaipur. The city was first mentioned in the epic Mahabharata. Legend ascribes the founding of the city to Raja Badal Singh, a Sikarwar Rajput king whose fort, Badalgarh, stood on or near the site of the present fort. It is a major tourist destination because of its many splendid Mughal-era buildings.
Agra
Recent Orders
Gifts which are currently being ordered to send to Agra
Most Popular Gifts to Agra
Gift Vouchers available for delivery in Agra
Gift Vouchers that can be Sent to Agra
Gift Vouchers are a perfect gift for your loved ones when you are not able to decide on a gift. You can send Gift Vouchers to your loved one in Agra. You can choose from different gift vouchers like Shopping, Dining, Apparel etc, of brands like shoppers stop, pizza hut, dominos and many more. Surprise your friends and family in Agra with Gift Vouchers from our website and put a smile on their face.
You can Send Gift Hampers to Agra
For special occasions of your loved ones you can send gift hampers to Agra. .
A lot of gifts have been assorted together to curate these exclusive gift hampers. You can shower many gifts at a time for your friends and family with these gift hampers. With these gift hampers surprise your dear ones in Agra and send your love along with the gifts.
Fresh Flowers & Cakes for your loved ones in Agra
Select the desired cake and flowers and the same will be delivered to your loved one in Agra. GiftstoIndia24x7.com has always been delivering fresh flowers and cakes to any part of India. Even if it is a midnight delivery we will deliver fresh flowers and cakes, as we do not compromise in the quality of the gift we deliver. We understand the emotion behind your gifts and so we deliver it with perfection and give you another reason to come back to us for any gifting solution.
Send Express Delivery of Gifts to Agra
GiftstoIndia24x7.com brings to you express delivery of gift where you can send gifts to your loved ones on same day of ordering. With express delivery you can send cakes, flowers, soft toys etc., combo of gifts and surprise your loved ones. We have introduced this express delivery so that you do not miss out on sending gifts on special occasions and celebrate it with your friends or family.