When was Bhai Dooj in 2016?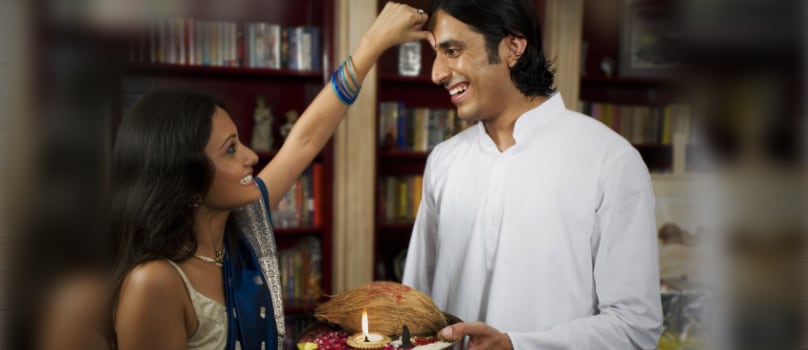 The five day long celebration of Diwali ends with the celebration of Bhai Dooj on the last day. The festival Bhai Dooj has a variety of names like Bhai Phonta, Bhau Beej and also Bhai Tika. The concept of this festival is similar to that of Raksha Bandhan as both are a manifestation of the great bond of love that is shared between a brother and a sister. Bhai Dooj is a very important and popular festival in India and Nepal that is now celebrated all over the world. Bhai Dooj takes place two days after Diwali on the second day of Shukla Paksha in the Hindu lunar month of Kartik. So if you are wondering when is Bhai Dooj in 2016 then we would like to tell you that it is on the 1st of November which falls on a Tuesday.
Bhai Dooj Celebration
Bhai Dooj is observed in the way of applying a tika on the forehead of the brothers by the sisters. Different regions apply differently coloured tikas like red made out of roli, white from sandal and also a tika made out of seven different colours. Many rituals accompany this custom that also vary but the exchange of sweets and gifts on this occasion is universal. A great feast is also prepared by the sister for her brother and all kinds of delicacies are served to him. Sisters who are apart from their brothers or who do not have a brother pray to the Moon God or Chandra on this occasion. The tale of Lord Yama and his sister Yamuna influences this event to a great extent and some regions also worship Yamaraj on this occasion.
You will surely miss your dear brother or sister during this coming Bhai Dooj and you must be looking for ways to make it a special day. Sending exciting Bhai Dooj gifts to India for them can make this a very memorable occasion for them. This online gift store holds many such gifting options that will be loved by your dear sibling in India.
Bhai Dooj Gifts
You can send a gift of chocolates for your beloved brothers and sisters that they can enjoy on this occasion. The Chocolaty Treat Hamper contains a variety of branded chocolates from Cadbury, Nestle and other brands. There are also a variety of silver gifts available on this online gifting portal that your siblings will love. The Om Puja Kalash is in the form of a kalash on which there is a shagun nariyal with a red Swastik symbol along with leaves and all of these has been made out of silver. Sending spiritual gifts on this occasion is also very appropriate and different categories of silver gifts have been showcased here. The Amazing Lord Krishna Showpiece is a spiritual idol depicting Lord Krishna in a standing posture while playing the flute.
Many bhaiya dooj puja thalis are also present on this gifting site which you can send for your dear brothers. The Lakshmi Narayan Puja Thali has idols of Goddess Lakshmi and Lord Narayan, a bell, a kumkum dabbi and a thali made from silver. Gadgets for brother as gifts on Bhai Dooj will be loved by your beloved bhaiyas and many such gifts have been showcased here. The Logitech webcam is sleek in appearance and it also comes in an attractive black colour. A number of Bhai Dooj gift hampers have been showcased on this online gift store in different categories. The Enigmatic Hamper for Men is a hamper for brother that contains a variety of useful personal care items for your bhaiya.
Send online gifts to India using these as well as other kinds of fantastic gifting options on Bhai Dooj. Your dear brothers and sisters in India will love these exquisite gifts and they will remember this Bhai Dooj forever. You can also find many other gifts to India here which can be sent for other occasions and events.