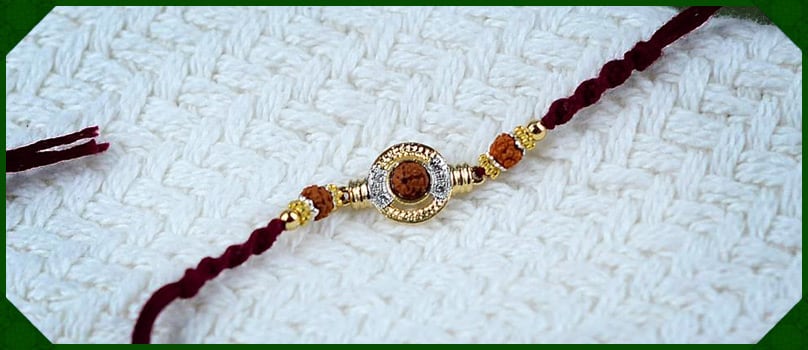 Right from the very conclusion of this sacred festival in the receding year, the planning for rakhi has started. Such is the importance and vivacity of this festival among the Indian populace. Every year on the full moon day in the Hindu month of Shravana this holy event is celebrated. As per the Gregorian calender, the festival takes place on the month of July-August. Rakhi in 2011 will be celebrated on 13th August. Now that you know when is rakhi, we can focus on the festival of Raksha Bandhan in general and also on the different gifts that can be sent on this festival.
On this day, girls tie rakhis to their brothers and pray for their overall well being. Brothers also, in turn, vow to stand by the side of their sister all lifelong. It is this beauty of a brother-sister relationship that rings large through the observance of this auspicious occasion. Nowadays tying of these rakhi threads is no more concentrated within a bother and his sister by send through Giftstoindia24x7.com. Girls these days also tie lumbas to their sisters-in-law. To meet with this requirement of the day, there is a heavy demand of colorfully decorated Rakhis or lumbas during this time of the year.
Right from the historical times to this age of internet, the celebration of rakhi has proved to be an adept mechanism to strengthen the social bondage with every passing year. Just like its previous celebrations, rakhi is also believed to carry forward this upheld bastion with same zeal and fervor. Vanquishing all the dogmas that are otherwise prevalent in a Hindu social life, Rakhi is a time to engage into all-round fun, frolic and festivity; celebrating the human bondage of love, care and affinity to the very best. Just like any other Indian festival, celebrating rakhi and gifting always go in tandem.
Rakhi is a beautiful Indian festival celebrated all throughout the length and breadth of the country. Today, with more and more Indians settling abroad, festivals like that of Rakhi is no more concentrated within the geographical limits of the country. Acclaiming its worldwide observance, this very Indian festival has truly gained a global importance nowadays. Brothers and sisters always are in a search of gifting each other the most priceless gift that would touch their respective hearts to the most. So as you know that when is rakhi, you ought to prepare yourself to get hold of a nice gift that will surely impress your sibling to the max.
To throw a light on some trendy gifting ideas, the first that is sure to find an eminent mention herein is no other but chocolates. Since ages, these delectable confectioneries have floored innumerable human hearts. The second of course, is some exclusive rakhi hampers. A hamper, being a medley of different gifts, is sure to allow you to present a varied collection packed in one. Then there are rakhi giftsin the likes of Rakhi greeting cards or personalized Rakhi gifts that are innovative as well as alluring. Keeping in view the importance of Rakhi Thalis in performing the rituals of the day, you can also send the same for your dearest sibling during this rakhi.
But nowadays, to cope up with the recent career trends, many of us have to leave their home and abode to settle abroad. And the US, being one of the favorite overseas destination, Indians today eye for some reliable avenues to send rakhi to USA. This desire has been made easy with the advent of some ground-breaking inventions in the fields of computers and internet. With this progress, the term e-gifting become a global lingo to avid shoppers, thereby mitigating the obnoxious barriers of time and distance. To facilitate in sending rakhi to USA, nowadays many a e-gifting companies have ushered in. With this recent developments now it has been a lot easier to send rakhi to USA from anywhere of India to let someone feel the beauty of the festival to the hilt.
Even when the day of rakhi is over in India, the new dawn in the US still has the fresh essence of this sacrosanct festival. So end of the day in this part of the world never restricts one from sending rakhi to USA and celebrate it with full gusto. A large number of online sites will definitely come handy in making this wish come true. It is this beautiful thread of protection that ties a brother and a sister in tandem even if they are settled much apart from each other. Send your unblemished affections of the day to your dearest sibling and let them feel the touch of your love and care. So start your preparations right now, and make rakhi a festival to be cherished for an elongated period of time.