Significance of Diwali Wall Hangings and Door Hangings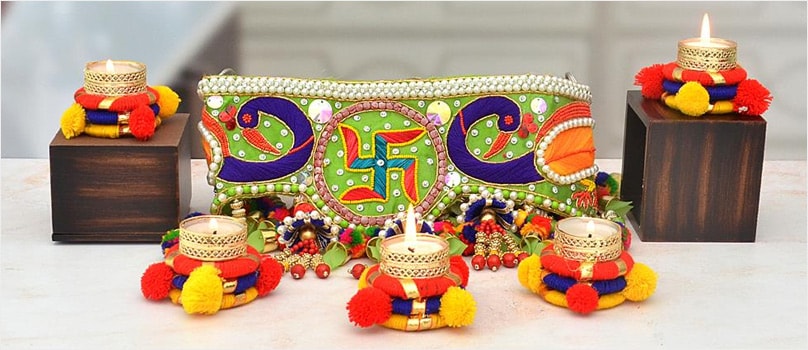 Diwali is one of the most auspicious ancient religious festival that is celebrated both in India as well as among the Indian diaspora residing elsewhere across the globe. It is the festival of lights that is celebrated in autumn every year. According to the Gregorian calendar, Diwali falls somewhere between mid-October and mid-November. According to the Hindu mythology, Diwali signifies the homecoming of Lord Rama to Ayodhya along with his wife Sita and brother Laxman from Lanka. According to Jain mythology, Diwali marks the attaining of Nirvana by the last Tirthankara Mahavira. The Sikhs on the other hand, mark Diwali as the day when Guru Hargobind freed himself along with some Hindu kings from the Fort of Gwalior.
In short, whatever the reasons may be, Diwali stands for joy and celebrations for everyone. In order to usher in the festivities of Diwali, Indians tend to decorate their homes with various decoratives, ornamental pieces and fancy items, the most important among them being wall hangings and door hangings. You can send these as online Diwali gifts to India. A door hanging is also known as toran and is considered as one of the traditional forms of welcoming people to your home or workplace. According to the popular beliefs, the door hangings were hung by the citizens of Ayodhya to welcome their beloved prince Lord Rama.

Another popular notion is that Goddess Lakshmi, the Goddess of wealth and prosperity roams the Earth on Diwali night. The door hangings are meant for welcoming Goddess Lakshmi on the auspicious occasion of Diwali. The night of Diwali also coincides with
the darkest, new moon night of the Hindu Lunisolar month Kartika. It is a general notion that evil spirits roam the surface of the Earth, a day prior to Diwali. That is why the door hangings are hung outside the doors to ward off evil spirits.
Diwali Door Hanging Ideas
Door hangings are rich in designs and colors and can be made from a variety of materials. You send beautiful door hangings as Diwali Gifts India to your loved ones, through GiftstoIndia24x7.com, the premier online gifting portal. You can check some beautiful Diwali door hanging options available online.
Bandhanwar
Bandhanwar is a term that is used to describe a door hanging which is hung at the entrance of houses from one end of the door to another. It is believed that bandhanwars are hung to ward off evil spirits and bad omens that might enter through the various entrances of the house. Generally bandhanwars come in red and yellow colors, which are considered to be auspicious. Various patterns and designs make these door hangings look attractive.
Shubh Labh Door Hanging
With the festival of Diwali just round the corner, you can send this shubh labh wall hanging to your loved ones in India. This is made of golden colored zardosi and sequins work on red colored cardboard which will definitely make the rooms of their houses look attractive. There are latkans made of golden beads and red-green balls hanging from either side of this door hanging. This will definitely bring lots and lots of good luck for your near ones.
Zardosi Door Hanging With Latkans
Let your loved ones decorate their homes by sending them this beautiful door hanging. This zardosi door hanging has been decorated with peacock feather, artificial glass and magnificent zardosi peacocks facing each other with a swastika symbol at the centre. Green and red colored beads are arranged beautifully in the form of semicircular designs. This door hanging will increase the beauty of the houses of your loved ones.
Wall Hanging Ideas
While door hangings are associated with welcoming or warding off the evil spirits, the wall hangings on the other hand are meant only for decorative purposes. Diwali wall hangings are beautifully decorated with symbols like Kalash and Swastika. According to most Indian communities, these symbols are pious and stand for good luck, prosperity and wealth. These are hung inside the room to let prosperity fill the entire length and breadth of the house. Here are a few Diwali Wall Hangings available online.
Beautiful Mangal Kalash Wall Hanging
This Diwali, send this auspicious Mangal Kalash Door Hanging to your loved ones and let prosperity shower on them. This iron made home decor item exhibits a Mangal Kalash in its centre along with the 'Swastika' symbol, coconut and mango leaves. All these symbols are considered extremely pious among the Indian communities.
Beautiful Subh Labh Wall Hanging
Delight your loved ones on Diwali by sending them this wall hanging that comes in two parts, with the words "Shubh Labh" written on them. These words stand for Happy and Profit. These words have immense significance especially for those Indian communities whose primary mode of earning money is business.

These decoratives would definitely delight your near and dear ones in India. When you plan to send Diwali gifts to India, make sure that you select the gifts from GiftstoIndia24x7.com, the leading online gifting portal. This portal will make sure that the Diwali gifts, which you select will be delivered at the doorsteps of your near and dear ones and bring a wide smile on their faces.