Send Rakhi to Delhi, India
The relation that we share with our sisters is undoubtedly the most loving one. And it is during the festival of Rakhi that we acknowledge this beautiful bonding of mutual trust and affection to the very best. Since nothing conveys our heartfelt wishes better than gifts, sending Rakhi gifts to India is a much popular practice on this day. The day is celebrated every year on the full moon day in the Hindu month of Shravana.
Thanks to the worldwide dispersion of the Indian populace, it is because of this only that festivals like Rakhi has been truly alighted to the position of a global festival these days. But these global Indians always nurtures an overwhelming desire to send Rakhi to India for their dear sibling on this day. Here comes the help of the value added service of GiftstoIndia24x7.com. Now you can easily send Rakhi to India from anywhere in the world with just a few clicks of the mouse.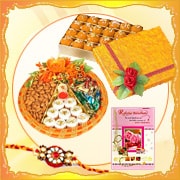 So, as you now know when is Rakhi this year you ought to prepare yourself to get hold of a nice gift that would surely appease the taste of your dearest sibling in India to the most.
Come herewith if you wish to send Rakhi to Delhi, India. Delhi, being the capital city of India, boasts to attract an eminent importance in every spheres of a contemporary city life. Right from the historical times, it is a city of rich cultural heritage and traditions. Just like any other part of the country, Delhites also participate in celebrating the festival of Rakhi with the same enthusiasm.
Keeping an eye on the global craze to send Rakhi to Delhi, we at GiftstoIndia24x7.com, have showcased some wonderful Rakhis that you can select and send for your dear sibling as living therein. So, come with us and send your Rakhis and other Rakhi gifts to Delhi through us.
Ranging widely from perfumes to phones, from gift hampers to watches, GiftstoIndia24x7.com is well versed with some brilliant e-gifting ideas. Apart from these gifts and an exclusive collection of Rakhis, an innovative differentiation of gifts for sisters or for brothers or even for kids and infants are sure to meet your every requirement of the day to the best.
All these gifts are showcased herein after keeping in view the choice of an Indian to the most. So, select these gifts, and along with these send Rakhi to Delhi herewith which will definitely earn you a special place in your beloved sibling's heart.
Thinking of how to send your wishes on this auspicious occasion to your dear sibling as settled in the States? Well, we also have an answer to this question of yours. Now you can also avail our services across the Atlantic and send Rakhi to USA. Eying to the whooping number of Indians settled in the US, we have ushered in to help you. With us, send Rakhi to USA and enjoy the festival to the very best.
The extensive collection of our Rakhi to USA is sure to impress your sibling, as situated therein, a lot. All these Rakhis and Rakhi gifts are sure to delight all. Send Rakhi to USA with us and usher in a sense of attachment, deep love and affection to your beloved sibling's mind.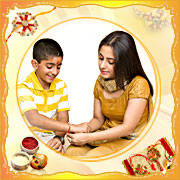 Send Rakhi to Delhi, India with us today, and we promise to deliver your gift with utter care and timeliness to the desired place. With our prominent presence all throughout the country, now it is just a matter of ease for us to deliver your Rakhi gifts to Delhi just in time. The committed team of our 24x7 customer care will rightly guide you throughout the entire gifting process.
You can even track the status of your order herewith and will be provided with the best available feedback. We accept all major international currencies like US Dollar, GBP, Australian Dollar, etc., as well as cards in the likes of Visa, MasterCard, American Express, etc., to make your gifting process a more smoother task to accomplish.
So, what are you waiting for? Hurry up and send your Rakhi gifts to Delhi, India herewith. Experience the joys of becoming the part of the celebration, even when you are miles apart from your loved ones.
We, at GiftstoIndia24x7.com, will be proud to be the help you in your noble attempt to vivify your dear sibling's face with a smiling curve. Wish you a happy Rakhi!