Rakhi - Festival in India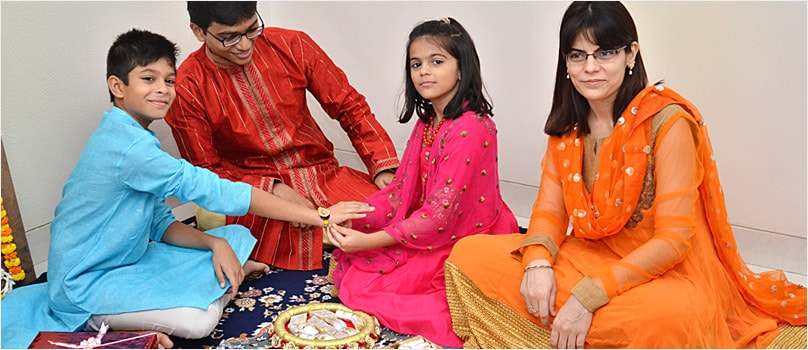 India is globally known for its rich culture, festivals and traditions. Among all the festivals celebrated here, Rakhi in India is undoubtedly one of the most popular festival eagerly awaited by all and celebrated with joy and enthusiasm. Rakhi in India is celebrated with pomp and grandeur. Rakhi is the day that commemorates sweet and sour relationship shared between brothers and sisters. Rakhi is an occasion that honours loving memories, togetherness and friendship which is ever-lasting and true. Though the Raksha Bandhan has the same significance in every Indian states yet the rituals vary in different parts.
When is Rakhi celebrated in India? The Rakhi festival is observed on the full moon day of the Hindu month of Shravan. On the day of Rakhi, the sisters keep a fast. Dressed in new attire, sisters apply sacred tilak on their brother's forehead and tie the thread of Rakhi on their brother's wrist. This ritual takes place amidst the blowing of conk-shells and chanting of auspicious mantras. Sisters pray to the Almighty for their brother's well-being. Brothers in return vow to protect their sisters from all the adversities and troubles of life and shower their sister(s) with gifts.
Rakhi is an ancient festival, and for all sect and creed, this festival has a great importance. Nowadays, people of other religions also celebrate it. There are many references to the significance of the Rakhi festival in history of ancient India and Hindu mythology. One such legend is of Rani Karnavati, the widow of the reigning king of Chittor. She was threatened by the king of Mewar, Bahadur Shah. She sent a rakhi to the Mughal Emperor Humayun, expressing her desire of seeking protection and help from him. Humayun was so moved that he abandoned an ongoing battle and rushed to help her! There is also a legend of the queen Draupadi, wife of the Pandavas, who, on seeing blood ooze from Lord Krishna's wrist, tore a strip of cloth from her sari and tied it on his wrist. Krishna became very emotional and declared her his sister. He promised to help and protect her and spent 25 years fulfilling his promise!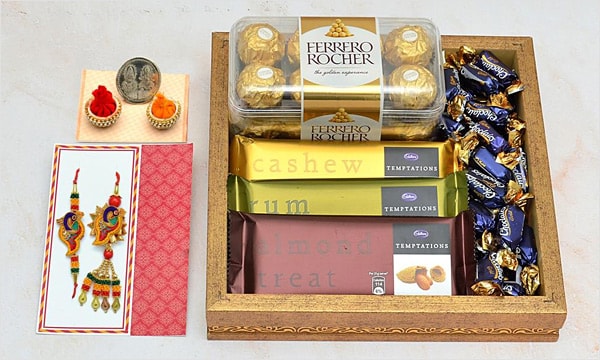 With this epoch making advancements in the field computer and internet, the trend of online gifting has become popular. No need to wander around the shops within the thick crowds, nor any tension to get value of the money, online shopping makes the process easy and simple. There are many websites facilitating online gifting. GiftstoIndia24x7.com is the pioneer of all e-gifting sites. Through the proficient delivery and prompt service at GiftstoIndia24x7.com, it has pleased around 100,000 customers and till date boast 150,000 successful deliveries.
On the occasion of Rakhi, plethora of Rakhi gifts have been showcased by GiftstoIndia24x7.com. Varying Rakhi threads are also there to adorn its store. Some Rakhis are made of silken, golden and silver threads and studded with semi precious stones, while the others are simple and sober with just a piece of string. These Rakhi threads showcased herein exemplify artistic excellence. There are Silver Rakhis, Zardosi Rakhis, Pearl Rakhis, Lumba Rakhis for Bhabi and many more. Take your time to browse through the site of GiftstoIndia24x7.com and select the choicest Rakhi and Rakhi gifts.
If you wish to send Rakhi to USA to your brother settled there we are there at your service. Send Rakhi to USA coupled with some beautiful gifts through GiftstoIndia24x7.com and surprise your dear brother. Your Rakhi to USA will be delivered right at the time of festivity which will surely add charm to the celebration. Send Rakhi to USA and enfold your best wishes and heart-felt emotions through this e-gifting portal.
Send Rakhi to your dear ones through GiftstoIndia24x7.com and enjoy the hassle free e-gifting. So, select and send Rakhi and paired with Rakhi gifts to your dear ones and enjoy the colors of the festival to the best.