Rakhi Celebrations in Different Cities of India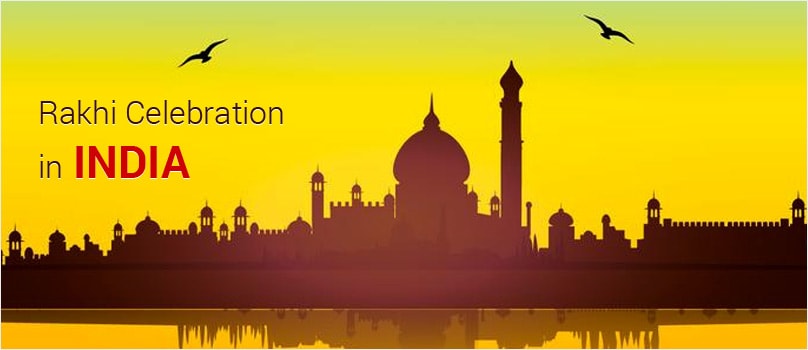 Since times immemorial the world has known India to be a land of diverse rituals and festivities which amalgamates the multiplicity of religion, caste, creed, culture and language quintessential to the spirit of India. Raksha Bandhan is one such festival which is celebrated along the length and breadth of this vast country. In course of time with the rapid commercialization of culture and customs Rakhi has undergone a marked makeover. But the rituals and sentiments associated with it have remained unchanged.
Rakhi is an out-and-out Indian festival, but owing to different legends and their significances prevalent in different parts of India the manner of celebration varies in different regions of India. Rakhi is celebrated primarily as a North and North West Indian festival but its festive throbs are resonated in other parts of India as well. Every year Shravan Purnima better known as Rakhi Purnima is celebrated as rakhi day. It is essentially about strengthening the sacred bond between a brother and a sister fostering brotherhood. Chanting sacred mantras, the sister ties the sacred thread of Rakhi on her brother's wrist which in many ways is like an amulet protecting the brother from all evils, believed to auger luck and prosperity for him. The brother also takes the solemn pledge of love, affection and support for the sister. Apart from strengthening the perennial bond between a brother and sister, Rakhi has other dimensions also among different breeds of people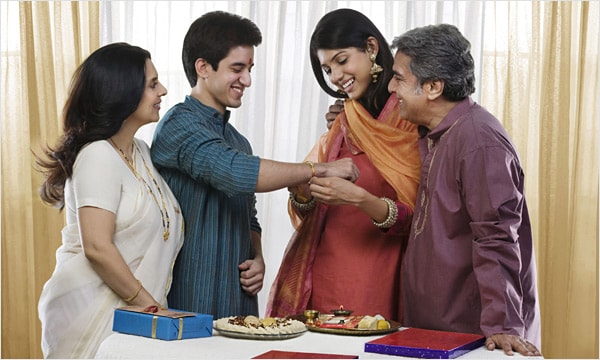 In areas of Madhya Pradesh, Bihar, Chattisgarh and Jharkhand Raksha Bandhan is called by the name of Kajari Purnima or Shravani. Here Raksha Bandhan is an important day for farmers. In the southern parts of India in places like Kerala, Andhra Pradesh, Tamil Nadu and parts of Orissa Rakhi Purnima is called Avani Avittam. It marks an important day for the Brahmins. The day is called Upakarmam by the Brahmins. They change their holy threads on this day. In the Western Ghats side that includes the states of Gujarat, Maharashtra, Goa and Karnataka Rakshabandhan signifies the beginning of a new season for those dependent on sea. It is called Nariyal Purnima or coconut full moon in these areas. In Gujarat rakhi day is celebrated as Pavitropana the day, which marks the worship of Lord Shiva.
In Agra, Rakhi is celebrated with a lot of fervour and enthusiasm in almost every household. Sisters clad in new garments with Rakhis of different styles on decorated rakhi thalis with the holy roli and chawal greet their brothers on this auspicious day. Sisters put Mahendi on their hands and oserve fast on the name of their brothers till the rituals of Rakhi are complete.
In the capital city of Delhi Rakhi is celebrated with pomp and gaity. The euphoria can be witnessed days before the occasion when the market areas go abuzz with spontaneous business regarding Rakhi, continuing till midnight. Like any other festivals gifts and sweets play an integral part in Rakhi celebration, rakhi gifts ranging from the eternal chocolates, perfumes,hampers to the modern electronic gadgets disappear from the market like hot cake.
In the city of dreams Mumbai, Rakhi is witnessed with a huge fanfare. Raksha Bandhan Festival is popularly known as Nariyal Purnima Festival or Coconut Full Moon by people living in Mumbai's famous beaches. A unique ceremony is carried out to appease the Varuna, the Hindu sea God. Bollywood stars also actively participate in this carnival, adding the glamour quotient and drawing enough media attention.
In Kolkata the Rakhi celebration was kick-started by none other than Rabindranath Tagore who used the immense socio-culture significance of Raksha Bandhan festival to instill the feeling of nationalism and brotherhood amongst the people from different ethnic backgrounds immediately after the partition of Bengal in 1905. Since then Rakhi has been an occasion to cherish the spirit of harmony and fraternity in Bengal.
With the advent of Internet and the online gift-store sending rakhi to India has become much more convenient. These days when the internet has crossed all barriers of time and space how can Rakhi stay away from this phenomenon. Online Rakhis, rakhi thalis, rakhi hampers are the in-things for the sisters living abroad. They can send rakhi to India with to their beloved brothers from anywhere it the world along with the most exquisite rakhi gifts.