Diwali Celebration In Eastern India
Diwali, the festival of lights is celebrated all over the country with much fervour and grandeur. Being a country which is culturally diverse in all aspects, it is of little surprise that every region of India has different rituals for Diwali celebration. Diwali is a 5 day festival which is mainly followed in North India. But in other parts of the country also at least 3 days of the rituals are celebrated if not more. In this article we shall discuss about the celebrations and rituals held in the culturally rich eastern part of the country.

In eastern part of India it is believed that on this very day goddess Parvati took the form of goddess Kali and killed the demon Bakasura and saved the world. This is exactly why goddess Kali is worshiped on this day across the region. It is a very prominent festival in these parts of the country and is celebrated with a lot of enthusiasm.
Before this festival the houses undergo heavy cleaning. This is not as grand as Durga Puja but still is considered as a very auspicious festival. On this day it is believed that goddess Parvati and Shiva played dice. They enjoyed the game a lot. However, with time people don't play dice anymore instead they opt for cards. By the pay playing card is a very popular time pass in this part of the country.
In eastern India traditionally Rangoli is made with white rice paste. It is not colourful like the other parts of India. It is simple and just elegant. It is locally called alpona. Women soak their tender fingers in this paste and they make rangolis. It is a common practice and is still made in the houses. After the alpona is made it is decorated with red colour at places to make it look more attractive and is also decorated with small diyas.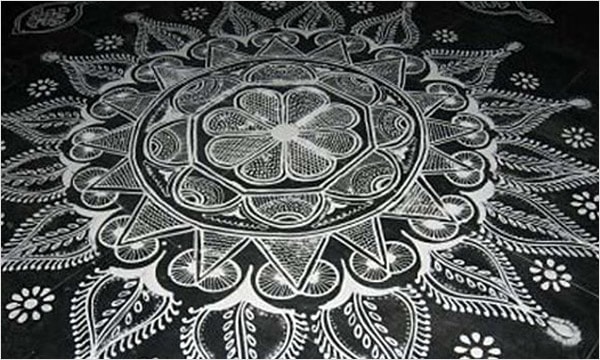 Each part of the house is lit with diyas. It is believed on this day the goddess Lakshmi visits the houses so it is ensured that no corner is left in dark. A day before the Diwali night fourteen diyas are counted and placed at various parts of the house. This is a very significant ritual and is still followed in almost all households. The doors and windows are kept open all night to let the goddess in. A diya is lit in front of the gods and it kept lit throughout the night.
Crackers are an integral part of this festival even in this part of the country. Crackers of all types are sold and play with crackers during this day. The kali puja is usually around midnight. So people stay awake and keep playing with crackers. It is a good time for the family to get together and have fun.
Another interesting ritual that is done in Diwali is that people show path to their ancestors. In almost all parts of eastern India rather West Bengal, where jute stems are burnt and lights are placed on the paths so that the ancestors can see their way. As you can make out this is a tradition that is followed only in rural India and not in the cities now.
These are the traditions and beliefs that are generally associated with Diwali in eastern parts of India. The rituals are simple and very special indeed. Also it is a custom of sending gifts to India during Diwali to your friends and relatives. Thus visit this trusted and reliable online shopping portal to get bombed with numerous Diwali gift ideas and share your piece of happiness with your loved ones in the form of gifts.