Which Divine Rakhis are in trend?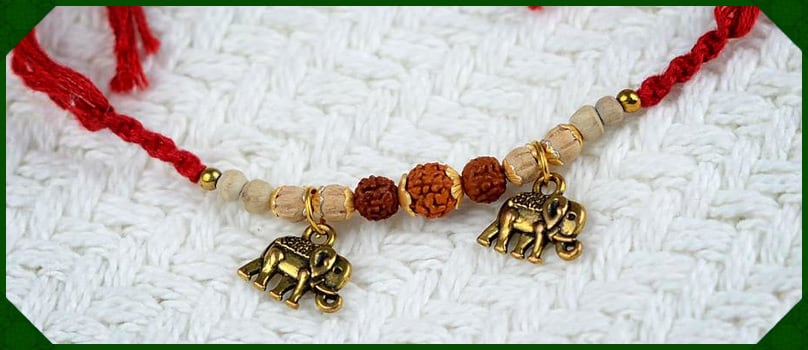 In today's time of online rakhi, divine rakhis are still in trend. Earlier, Rakhi used to be a simple pious thread which was tied by sisters on the wrist of their brothers. With time, rakhis began to change form and shape and the concept of divine rakhis emerged. Divine rakhis are those that are made of holy items, such as coconut, rudraksha, and pious threads. Divine rakhis also contain the images of gods and goddesses, such as Lord Krishna, Goddess Laxmi, Lord Ganesha, etc. The popular belief among sisters is that if their brothers wear divine rakhis, they will be showered with blessings from the almighty for years to come and ensure their well-being. The divine Rakhis are made by integrating puja items in the shape of a divine rakhi.
There are four types of divine rakhis which are trendy. They are
God Rakhi :
No festival in India is complete without the worshipping of god and that holds true for Rakhi festival as well. Rakhis with images of various gods are tied by sisters on the wrists of their brothers seeking blessings from the gods for their brothers. These kinds of rakhis provide a religious feel to the Rakhi festival. Images of gods which are popular on such rakhis are those of Lord Ganesha, Lord Rama, Gopal-Krishna, Durga, etc.
Swastika Rakhi :
Swastika sign is associated with Lord Ganesha, which held this symbol in his right hand. It is considered a very auspicious symbol in the Indian mythology and is said to bring peace and harmony and symbolizes protection and good luck. It is usually carved out of materials such as gold, silver, copper, brass and steel. Due to its religious nature, swastika rakhis are more popular among the elderly.
Om Rakhi :
Om Rakhis are one of the most popular forms of religious rakhis known for the spiritual feeling they add to the rakhi celebrations. The symbol "OM" is a sacred Hindu religion symbol signifying "Brahma"- the creator. Although laced with religious connotations, when set in interesting designs and patterns, this looks very beautiful. Several materials, such as steel, copper, brass and even gold and silver are used to make Om Rakhis.
Rudraksha Rakhi :
Rudraksha is a seed used as prayer bead in the Hindu religion. It symbolizes love, affection and kindness. Usually Rudraksha has its association with Lord Shiva. Rakhis made of Rudraksha are simple and elegant and exude spirituality. Rudraksha which is available as ek mukhi or panchmukhi can be arranged in several combinations to make stunning and elegant rakhis. The Rudraksha rakhis mostly appeal to the elderly people because of its simplistic design and the spirituality attached to it.
Celebrate this year's Rakhi by sending your brother from a wide collection of divine rakhis which add a touch of spirituality to the festive atmospheres. In the times of colourful and jazzy rakhis, simple and elegant rakhi is sure to stand out on your brother's wrist.