Children Celebrate Raksha Bandhan with L. K. Advani
Raksha Bandhan celebrates the sacred love that is shared between a brother and a sister throughout their life. This festival was originally a Hindu religious activity which has now changed into a secular one. Everyone, especially kids, celebrates this day with a lot of devotion and good wishes for their siblings. This Indian festival is now celebrated across the globe with Indians everywhere as well as people from other countries and cultures celebrating this day. Rakhi spreads peace and unity and these are quite strong messages during these turbulent times. Thus, this festival is actively supported by the Government of India and various other political leaders of our time. Some of them even go a step further by spending the day with underprivileged people or children.
Advani Celebrating Rakhi with Children
Veteran politician Lal Krishna Advani is one such person who celebrated Rakhi with little kids. According to him, many children from different schools come to visit him on this auspicious day every year. They greet him with good wishes for the day and then tie Rakhis on his wrist to celebrate this occasion. He in return arranges for various kinds of gifts for the kids and has a good time with them all throughout the day. This experience that happens only once a year in the life of Mr. Advani plays a huge role in lifting his spirits and giving him energy to carry on his good work. Leaders like Prime Minister Narendra Modi and President Pranab Mukherjee also observe this day in a similar fashion with many of the little ones tying these holy threads on their wrists.
If you are staying away from your bro or sis during this special occasion then you too must be feeling left out. However, you can easily surprise them by sending online gifts from this very reliable online Rakhi store. Exclusive Rakhis are available here in different styles and designs for kids as well as adults. There are also a number of products here that can be sent as Raksha Bandhan gifts to India. These gifts along with the Rakhis can make great gifts for this occasion and can be easily sent through us.
Rakhi Gift Ideas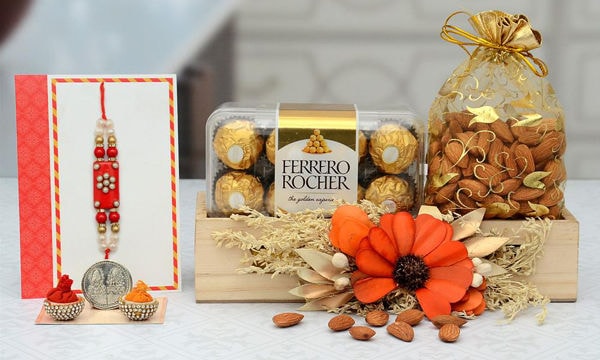 A number of cute, traditional and modern Rakhis are available here on this online Rakhi portal. The $3 Rakhis are very affordable and come in two different categories for your dear sibling. The Kids Rakhis come in the forms of their favourite characters whereas the Rakhi Threads are for adults and contain exquisite designs. The Bhaiya Bhabhi Rakhis contain a Rakhi for your brother and a Lumba for your sister-in-law. There are Bhaiya Bhabhi Sets, Bracelet Rakhis For Bhaiya and Lumbas For Bhabhi available here. The Kids Rakhis comprise of various kinds of Rakhis for the little angels that they will just love. You will find Character Rakhis, Cute Rakhis, Fancy Rakhis, Lumbi Rakhis and Toy Rakhis here. There are also precious Rakhis, Rakhis for brother and Rakhi sets showcased here on this online Rakhi portal.
There a number of attractive gifts available on this Rakhi site for everyone and you can have a look at all of them before choosing. The Rakhi gifts to India for brother include a lot of gifts for your dear bro that he will find useful in his day to day life and also on special occasions. There are accessories, apparels, dry fruits, electronics, gift vouchers, men's jewellery, perfumes, personal care items, personalized gifts, Rakhi cakes, Rakhi greeting cards, Rakhi mugs, shagun gifts, sweets, wallets and watches here. You can also get a huge range of Rakhi gifts to India for sister here for your loving sis on this occasion. They include bags and purses, cosmetics, dry fruits, electronics, gift hampers, gift vouchers, home decor, jewellery, kitchen and tableware, perfumes, personalized gifts, Rakhi cakes, Rakhi greeting cards, soft toys, sweets and watches. The Rakhi thalis come in different shapes and contain different kinds of gifts for this occasion. There are Bhaiya Bhabhi Thalis, Bhaiya Thalis, Kids Thalis and Puja Thalis here that your dear siblings will love.
Rakhi is a very important festival here that is celebrated even in different political spheres and by prominent leaders like L. K. Advani. There are a number of unique and attractive Rakhi gifts to India available on this online Rakhi store. Equipped with these gifts you can easily make Rakhi a memorable one for your siblings.