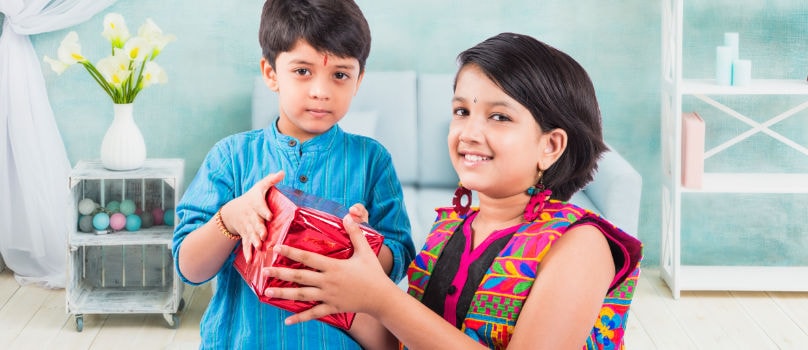 India a land of "Unity in Diversity" offers multi cultural traits. Indians are tolerant of all religions and they take part in every celebration that is held in the country without any hesitation. They share the joy and happiness of the festive mood. Out of many occasions and festivals "Rakhi" is an occasion which is celebrated by nearly all Indians. It is a festival which has no binding for any particular religion. Rakhi to India is a festival which celebrates the sweet bondage between a brother and a sister. The story behind rakhi is that a sister ties a sacred thread to her brother's wrist in order to protect his life from the wrath of "Yama", the Hindu deity of death. On the day of rakhi a sister prays for her brother's long life and good health. Not only the Hindus the great Nobel Laureate Rabindranath Tagore spread the culture of rakhi among Hindus and Muslims to improve the relationship among them and bring unity at the time of British rule in India. From then it is celebrated countrywide and have become a major occasion for the Indians. A major aspect regarding rakhi now is gifts of rakhi given to brothers. Though it is easy to send rakhi to India if you are settled here, even if one of the two is settled abroad it poses no problem now to send rakhi to India online through the online portal service of GiftstoIndia24x7.com. So if you are still not ready for rakhi, start your planning now and likewise the begin the rakhi shopping now on to avoid last minute rush.
You will be able to find everything related to rakhi at our site. Firstly, you will be able to send rakhi to India cheapest through us and secondly there are all sorts of gifts related to rakhi here. So send a rakhi to India to your dearest brother along with some stunning Rakhi gifts to surprise him. But what if your sister sends you online rakhi and you as a brother is without any clue about how to send her return gifts. A major problem indeed but with a simple solution, just log on to our website and there you will find a whole section dedicated to options of return gifts for your lovable sister. If you are not satisfied with those options then you can surf our other site which is dedicated only to Rakhi. This is known as giftstoIndia24x7.com. At giftstoIndia24x7.com you will find a host of return gifts for your sister. Some of them are discussed below :
Crockery :
Women love kitchen and especially as a girl grows up she gets attracted to kitchen where she learns to cook new dishes and surprise her family. So if your sister is a teenager or is growing up to be a lady, you can try gifting her beautiful Crockeries. She will simply love to serve her newly cooked dishes in them and serve it to the family or guests. At the crockery section you will find attractive dinner sets, glasswares, non-stick cookware sets and glasswares. Gifting these will surely make you the best brother to her.
Cosmetics :
Cosmetics are the best friends of girls. Girls of any age love to wear make-up and they will be more than happy if you gift them cosmetics. At our site you will find branded and exclusive range of cosmetics for women. Here you will find cosmetics from the house of Lakme, Garnier, Himalaya, Chambor. In a Hamper you will find cosmetics like Hair care products like shampoos, lotions, towels, age-lift cream and so on.
Gift Vouchers :
Send Gift Vouchers of any amount to your sister. Here there are a host of vouchers from different brands. Just try to know what's her favourite and likewise send her a gift voucher. If she happens to be a foodie, then send her a voucher from Domino's Pizza, Cafe Coffee Day, Baskin Robbins or if she is a shopaholic gift her vouchers from Pantaloons, Shopper's Stop, Big Bazar or Adidas and so on. Give her the freedom to choose and buy.
Electronics :
Modern day girls love gadgets. Your sister may also go ga-ga over gadgets then make her stunned by giving her a Electronic gadget like Handycam, I-Pod from Apple, Digital Camera from the best and latest brands, Webcam or a Hair Styler.
So make this rakhi memorable and special for your adorable sis and give her best gift that she will love and store forever. You can also send rakhi sweets as sweets are always considered auspicious for any Indian festival. Sisters can easily send rakhi to India and in return brothers can send rakhi return gifts to her to express his love.