Send Cakes, Chocolates and Sweets to India
If you are thinking to give a delicious treat to your dear ones on any special occasion or festival then you can opt for palatable food items from GiftstoIndia24x7.com. This is a reliable e-gifting portal through which you can send these food items to your dear ones. It has gained lots of popularity for its excellent delivery service. Send gifts to India and bring a sweet smile on your dear one's face.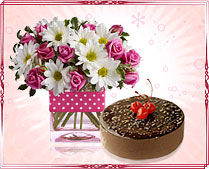 Send cake to India from USA is the perfect gift that you can opt for your dear ones on occasions such as birthday, anniversary, wedding and so on. In this site you will avail fresh baked cakes from Five Star as well as Taj bakeries. The cakes taste awesome and your dear ones will enjoy eating these palatable cakes. Cakes of various flavors such as chocolate, vanilla, strawberry etc are available in this site. You can also avail kids cake for your little ones. You will get the kid's cakes in various shapes and designs such as Mickey Mouse, Donald Duck, Barbie, Superman and so on. You can send these cakes according to your kid's favourite cartoon character. You can even convey warm wishes to your loved ones on wedding by sending two or three tiers from special cakes section. They will be delighted to receive these cakes on such special occasion.

Sending chocolates to India is everyone's favourite. Along with cakes you can charm your loved ones by sending mouth-watering chocolates. Different type of chocolates such as dark chocolate, milk chocolate, semi-sweet chocolate, sweet dark chocolate etc are available in this online store. If you are thinking to gift a box or a tray of chocolates to your dear ones then you can opt from chocolate hamper section. In these hampers you will avail assorted chocolates from renowned brands such as Ferrero Rocher, Valor, Lindt and so on. You can even send special handmade chocolates from Jus Trufs'. Often due to diabetics many people cannot have chocolates. In such cases you can surprise them by sending sugar free chocolates. Your dear ones will be amazed to receive these delectable chocolates as gifts.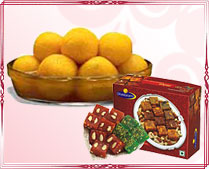 Every Indian loves to eat sweets. Hence, on any special occasion or festival, you can convey good luck and happiness by sending a box of sweets. Indian sweets are renowned for their rich taste and flavor. You can opt for popular Indian sweets such as kaju barfi, kaju suraj, peda, mewa sweets and so on. If your dear ones love to eat sweet with syrup then you can opt for a tinful of 'rosogolla' or 'gulab jamun'. Some of the sweets such as kaju hearts, kaju gujia, kaju roll etc are garnished with assorted dry fruits. The awesome taste of the sweets will definitely overwhelm them with joy and happiness.

If your dear one has a sweet tooth then you can enthrall him/her by sending a delicious sweet hamper as gift to India. The sweet hamper comes with diverse type of Indian sweets such as kaju hearts, soan papdi, chocolate barfi, kaju roll and so on. You will also avail hampers that include dry fruits and chocolates. Your dear ones will be pleased to receive these food items.

GiftstoIndia24x7.com along with these food items also showcases diverse types of gifts such as electronics, cosmetics, jewellery, men's accessoreis and so on. You can send these gifts to India and make your dear ones feel special.