Delicious Recipe which you can prepare for your parents
Parents hold a special importance in every individual's life. They are often given the place of God. Parents are the persons with whom children share all their thoughts, worries and emotions. So on Parent's Day children pay tribute to their loving parents for their affection and dedication. Parent's Day is usually celebrated on fourth Sunday of the month of July and on 2011 it is on 24th July. You too can surprise your parents by sending gifts.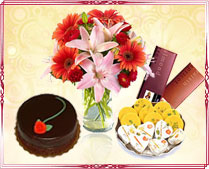 If for any professional commitments you are unable to attend such special occasions you can enchant them by sending gifts online. GiftstoIndia24x7.com, is a mega e-gifting store that showcases gifts for various occasions and festivals. For Parent's Day, this online portal comes with wide variety of Parent's Day gifts such as spiritual gifts, watches, perfumes etc that you can send as gifts to India. You can take the help from this online store for sending gifts on Parents Day. If you are with your parents then you can delight them by cooking their favourite dishes.

If your parents are fond of desserts then on Parent's Day them you can give a delicious treat by cooking mouth-watering desserts. Mouth-watering chocolate cake will be perfect dessert that you can bake for your parents on 24th July as gift to India. Here are some tips suggestion how to make chocolate cake (eggless).

Chocolate Cake (eggless)
Ingredients for the cake

Plain flour -2 cups
flax seeds -2 tablespoon instead of eggs along with 6 tablespoon water
sugar - 2 cups
salt -1/2 tablespoon
butter -1/2 cup
vegetable oil -1/2 cup
cocoa powder -1/4 cup
buttermilk -1/2 cup
baking soda -1 tsp
vanilla extract -1 tsp
white vinegar -1 teaspoon
milk - 6 tablespoon


Ingredients required while making the chocolate icing :-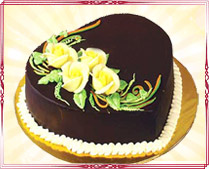 unsalted butter - 1/2 cup
cocoa powder - 1/4 cup
icing sugar-powdered sugar 16 ounce – approx 4 cups
vanilla extract - 1 tablespoon

Methods Required while making the cake

Grease a baking bowl or pan with butter or vegetable oil.
Grind the 2 tablespoon flax seeds to fine powder and keep it in a separate bowl.
Pour 6 tablespoon water in the container having powdered flax seed and mix it properly.
In a separate container, pour the flour, sugar & salt and mix them properly.
In a saucepan, heat water with 1/2 cup butter, oil and 1/4 cup cocoa in medium heat.
Add the hot chocolate paste into the flour mixture and mix the whole ingredients properly.
In a separate container, mix the vinegar, buttermilk, baking soda and vanilla
Pour this paste and the flax seed paste to the flour mixture. Properly mix the whole ingredients.
Pour this whole paste into the greased baking container.
In a oven bake the mixture for about 30 - 35 minutes.
After baking gets over, keep the cake in a cool place.

Methods involved while making the icing:
In a pan, melt 1/2 cup butter.
Pour the milk and add 1/4 cup cocoa to the melted butter and boil the liquid.
After few minutes, remove it from the heat and add sugar and 1 tablespoon vanilla.
Pour the chocolate icing and spread it with the help of a baking spoon on the cake.

They can have this cake with hot coffee or tea. This cake can be a wonderful Parent's Day gift. Thus make this grand occasion jubilant and memorable by cooking as well as sending gifts to India from US.