For centuries, gifting has been a process that is deeply rooted in our society. Gifts are held to be instrumental in bringing two hearts closer to each other. An occasion is, therefore, not mandatory for gifting; it can be done at one's own will. Gifts are conducive to promote goodwill, to demonstrate gratitude, and to continue good relationships. But, to feed the contemporary career commitments, many of us are compelled to live at a place far away from family and home. To cater the urge of these candidates, online gifting portals have extended a helping hand. Now, with just a few clicks of the mouse one can send gifts to his or her near and dear ones from any corner of the world. GiftstoIndia24x7.com is one such online gifting website which has taken up a noble effort of bridging the distance of time and distance between two caring hearts. With its untiring effort round a decade, it has satisfied a million in their quest to send gift to Hyderabad.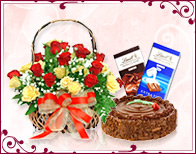 Hyderabad, the capital city of Andhra Pradesh, is the fifth largest city in India and is also known as The City of Nizams. The city is marked with the hue of oriental glamour and is connotative of the ancient splendour days of the Indo-Muslim culture. The tinkle of colourful bangles, the rich and dewy pearls, and the mouth-watering aroma of Shahi Biryani - that's the very essence of modern Hyderabad for you. It is the place where distinct cultural and linguistic traditions of North and South India fuses into a cohesive whole. The city of Hyderabad has played a pivotal role in the flourish of IT industry in India. And it is perhaps because of this, the city is popularly known as Cyberabad. It is also held to be the Biotechnology and Pharmaceutical capital of the Country. The city is home to the world's largest film studio, the Ramoji Film City as well as the Telugu Film Industry, the second largest in India, locally known as Tollywood. We, at GiftstoIndia24x7.com, are proud to be attached to this beautiful city and enabling people to send gift to Hyderabad.
Through GiftstoIndia24x7.com you can send a variety of gifts; ranging from Flowers to Cakes, from Greetings Cards to Jewelleries, or other exclusive gifts to your loved ones in Hyderabad. We also deliver your gifts to Hyderabad on the event of festivities of Diwali or Rakhi or Mother's Day and other occasion. With our meticulous dedication over timeliness and excellent customer support, it is now very easy for someone to send a gift Hyderabad. The presence of GiftstoIndia24x7.com has made it possible for anyone to send gift to Hyderabad without any hassles. So, enjoy carefree gifting with our services and send gift to Hyderabad.
So what are you waiting for? Send a gift Hyderabad with us today, and we promise to deliver it nicely packed with all the heartfelt emotions and with utmost dedication, care and timeliness. We have a committed 24x7 customer support team to help you all throughout this online gifting process. You can also track your orders herewith and will be provided with the best possible feedback.So no more worries about how to send gift in Hyderabad as we are there to cater your requirements. We will be pleased to help you out in your noble endeavor to send gift in Hyderabad to portray a smiling curve on your dear one's face.