Make Akshaya Tritya Unique with GiftstoIndia24x7.com
Indians celebrate the festival of 'Akshaya Tritya' with great pomp and show as they believe that it is an auspicious day to begin new ventures. It is said that if individuals purchase gold on this day then it will accumulate over the years. As 'Akshay' means one that never diminishes in Sanskrit, this day is believed to bring good luck and success in anything we initiate. It is usually celebrated on the third day (Tritiya) on the bright half moon of the Vaisakha month of the Hindu calendar. If you are wondering when is Akshaya Tritya in 2012 then it is on 24th April. Thus, if your dear ones in India are planning to set up a business on this day then make them feel more special by sending them Akshaya Tritya gifts.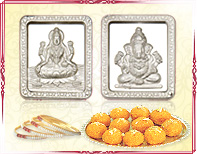 In recent times, several non-resident Indians have settled abroad due to professional commitments. Hence, they may not be personally there to congratulate their loved ones on their new ventures. If you are one of them, don't worry. Even if you are not with them, you can always send them gifts with the help of e-gifting portals like GiftstoIndia24x7.com. Since the past decade, we, at GiftstoIndia24x7.com have assisted numerous NRIs to send gifts to India on any festival or occasion. Since we are the only e-gifting site that offers 24 hours customer care service, you can place your order any time of the day or night.

If you are searching for unique gifts for Akshaya Tritya then you have to browse through our wide collection of items in the 'Akshaya Tritya' category. From religious items, gift hampers to apparels, you will find it all here. Indian festivals without delicious sweets are unheard of. Not only are these items served as desserts but are also considered to be auspicious whenever one is beginning something. Keeping this in mind, we offer you a wide assortment of mouth watering sweets in our site. From 'Indian sweets', 'Sweets Hampers' to 'Sweets Thali', you will find it all herein.

Besides these delicious sweets, silver items are also one of the most popular gifts which you can send as gifts to India on this occasion. As the name implies, silver gifts include items which are made of silver. Since Akshaya Tritya is an auspicious day, idols of Gods and Goddesses like Ganesha, Laxmi and so on will be an ideal gift. We offer you a wide selection of silver gifts to choose from. Thus, if you are planning to send these, you can browse through the 'Idols' section of this category. Apart from these, you can also send them Silver coins which have spiritual images imprinted on it.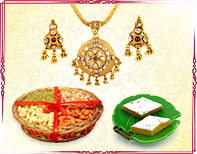 You can also send an attractive gift hamper as a gift to India on this occasion. Browse through our broad collection of gift hampers and select one which you feel will suitable. Dry fruits, flowers, cakes, gifts vouchers, are some of the items which these hampers contain. Besides this, you can also take a look at the 'Sarees' or 'Salwar' category, if you are searching a gift for your female relatives. Since sarees and salwar are ethnic apparels of Indians, your dear ones will be ecstatic to receive these items as gifts from you.

Since the past decade, we, at GiftstoIndia24x7.com have helped several Indians who are settled abroad to send Akshaya Tritya gifts to India without facing any difficulty. Even if you do face some problems while placing your order or have queries about the products, you can always call our customer care executives. They will help you to clarify your doubts as well as guide you through the entire ordering procedure. Thus, send gifts to your loved ones from our site on Akshaya Tritya 2012 and add more charm to the festival.