Last Minute Valentine Gifts
"Love is the condition in which the happiness of another person is essential to your own." ------- Robert Heinlein quotes
Valentine's Day also known as Saint Valentine's Day, is a special event across the world. Held on February 14th every year, Valentine's Day celebrates one of the best human emotions called "love." This day has a lot of relevance because it acts as a unifying factor for all human beings cutting across their race, creed and religion. The festival commemorates the martyrdom of Saint Valentine, a Christian Saint. However, today the religious significance of Valentine's Day has been sidelined and the secular and global element has come to the fore. It is a day to express unending love.
Love is not only restricted among lovers but goes beyond to encompass parents, teachers, friends and other near and dear ones! Valentine's Day is all about sending loads of love and gifts. Gifts which range from beautiful flowers, special gift hampers, chocolates, love cards, accessories to a number of other exotic items. Deciding on gifts for your loved one is a complex process and needs a lot of thinking. The aim is to bring a smile on his or her face with the best gift possible! Some special gift ideas are needed at the last minute to convey deeply felt emotions.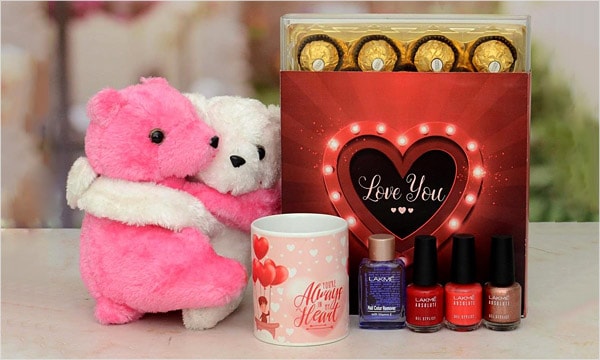 Chocolates on valentine can be considered as exceptional Last Minute Valentine's Day Gift because they transmit the sweet message of love in no time! Lovers can share some of the best moments of their lives while sweetening their taste buds.
Gifting CDs of Romantic Movies and Songs is also an exciting last minute option! It is one of the best ways to spice up the love life. Gifting him or her some of the choicest love songs and movies can just add a special dimension to the festivities.
Last Minute Valentine's Day Gifts can also comprise of Romantic Novels and books on Romantic Poetry. Every thing can be tried out from classics to modern literature! The words of love can whisper in the ears the essence of being there for each other.
Hardly anything can beat flowers when it comes to expressing love. Different arrangement of roses and other varieties of flowers are exceptional gifts, transmitting tender human emotions. A large bouquet of flowers can just match the intensity of feelings on Valentine's Day.
Jewellery is a lady's best friend. Exotic gold, silver, diamond and platinum jewellery sets can just win a woman's heart. This Valentine's Day gifting her Jewellery can be an exclusive last minute option!
Perfumes from World Class brands are also special gifts for special someone during those precious last hours. The alluring fragrances of exotic perfumes infuse the spirit of love. You can choose from some of the best brands
Beautiful Love Cards, Apparels and Valentine show pieces can also be tried out. However, if the lovers plan to spend the day at their home then they can prepare a special dish. Nothing like enjoying the delicacy in a candle lit ambiance!
Valentine's Day is all about roses, hearts, cupids and love birds. It is a day to share, care and to send gifts with the magical words of "from your Valentine" written on them. It is a day to love, love and only love.