Giftstoindia24x7.com Launches Dhoom 3 Movie Merchandise

With Yash Raj Productions gearing up for the release of their upcoming blockbuster movie Dhoom 3, the craze surrounding the thrilling Dhoom series is back yet again. Already creating a buzz, this action thriller has roped in some of the biggest Bollywood stars like Mr. Perfectionist Aamir Khan and the beautiful Katrina Kaif as the antagonist duo. Abhishek Bachchan and Uday Chopra will reprise their roles as characters Jai Dixit and Ali Khan.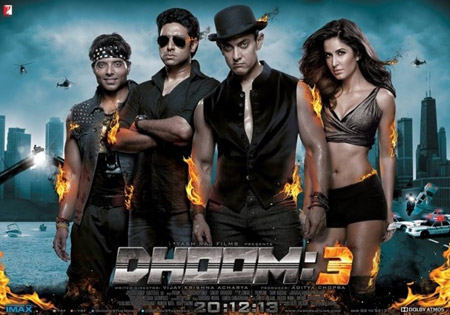 Giftstoindia24x7.com presents a golden opportunity for all Dhoom series fans to get hold of the latest Dhoom 3 movie merchandise accessories. Prepare yourself to steal the limelight from your folks by creating a stunning style statement with these exclusive accessories available in the official website of Giftstoindia24x7.com.

The range of movie merchandise products includes belts, cufflinks, key rings, pendants, rings and tie clips. This exclusive collection is inspired from the theme of the movie. These Dhoom 3 accessories are very masculine in feel and appearance and will certainly enhance your masculine looks. The set of Dhoom 3 Belts are a must-have in men's wardrobe. The Dhoom 3 belts are available in dark brown and black colors. They can be perfectly worn with all formal, casual and party wear. The collection of Dhoom 3 Cufflinks have a rugged look complementing the mood of the movie. These cufflinks with metal, gear and other masculine motifs define a unique style statement for themselves.
Apart from belts and cufflinks, this thrilling collection also consists of tie clips, rings, pendants and key rings. Tie clips are known to add grace to all attires and when these tie clips happen to be from the exclusive Dhoom 3 Tie Clips collection, they are bound to add both grace and rocking style to your formal and party wear. The Dhoom 3 Rings offer unique craftsmanship and are perfect style setters. The Dhoom series is integrally connected with bikes and hence bikers make a huge number of fans of this movie series. The Dhoom 3 Pendants and Dhoom 3 Key Rings are intensely inspired from the rugged biker accessories and boasts of the Dhoom style.

These Dhoom 3 movie merchandise accessories will glam up your everyday attire with loads of attitude. Most people are keen to don the style of their favorite celebrities. Giftstoindia24x7.com gives the Dhoom series fans a fabulous chance to imitate the style statement of the celebrities. Plus, the site also provides you an opportunity to allure your movie freak loved ones by gifting these exclusive accessories from the Dhoom 3 movie merchandise collection.

Giftstoindia24x7.com is a reputed online gifting site and is known for its dedicated service. This online gifting store focuses on high quality product generation and delivery to its customers. The site is highly dedicated towards a memorable and cherishing gifting experience.